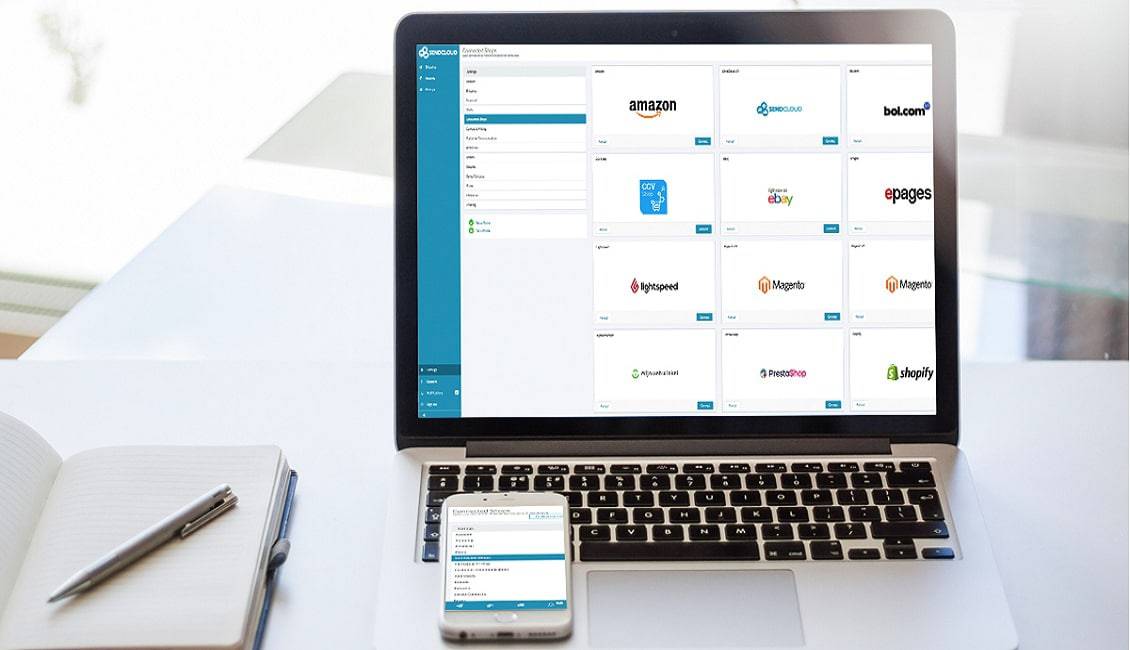 The year is already advanced, and it is already time to think about preparing your online shop for the coming year. What e-commerce trends are expected in 2020? The developments range from increasingly individual customer experience to the concrete implementation of augmented reality when shopping. We have looked at several innovations that will change online retailing in the long term.
According to recent studies, we expect significant developments in the e-commerce sector, affecting (almost) every country in the world. From the introduction of 5G to the use of Artificial Intelligence and inventory management, the industry is experiencing an unprecedented wave of technological innovation. Whether B2B or B2C, it is time to move to the 3.0 trading era and prepare now for the E-Commerce Trends 2020.
What e-commerce trends do we expect in 2020?
In the e-commerce sector, it is essential to keep pace with developments and future trends. Prepare now for the exciting future of e-commerce by implementing the emerging E-Commerce Trends 2020.
1st Augmented Reality and Virtual Reality as E-Commerce Trend 2020
According to the latest Gartner study, by 2020, 100 million consumers will be shopping online and in stores using augmented reality. Augmented Reality technology allows shoppers to integrate products directly into their future environment. This makes the products almost physically tangible and makes shopping much more comfortable. Here are a few examples:
Sephora
Founded in 1969, Sephora is known for its excellent customer experience. Recently, the Sephora Virtual Artist brand has been joined by Augmented Reality. This allows customers to try out different make-up looks or take photos of garments that work as a virtual fitting.
IKEA
With IKEA Place, IKEA already launched an app in the EU market in 2018 that also uses augmented reality and enables users to try out furniture and accessories before buying them. In this way, buyers get a precise idea of the product. Customers no longer have to try to imagine what a particular sofa would look like in their living room – they can see it realistically!
Augmented reality, therefore, expects a great future and has already made significant progress. Augmented Reality is consequently certainly one of the e-commerce trends that will have a substantial impact on the year 2020.
2. 5G and the Mobile Commerce
Efficient e-commerce sites are the basis for online commerce, no question about it. But that's not all. As more and more users are accessing online shops on the move, online business is having to undergo a profound change. Here are some figures:
According to SearchEngineLand, almost 60% of all Google queries this year were made from a mobile device. Search engines have already advised online merchants to make their e-commerce sites more user-friendly, but it's the mobile applications that are winning the race.
The new technology will open up numerous opportunities for the e-commerce sector. Thanks to the faster download speed, video content, and augmented reality can be offered on an unprecedented scale. Marketplaces could become real shopping centers where online shoppers can look around to find the products they want. 5G and mobile commerce – an e-commerce trend 2020 that you definitely shouldn't oversleep!
3rd Machine Learning and Artificial Intelligence
Machine learning and artificial intelligence already have considerable effects on many areas of activity. The algorithms used to make it possible for a computer-controlled system to adapt its analyses and behavior accordingly to a certain extent by relying on the analysis of data from a database or sensors. In simple terms, for example, machine learning will enable online stores to provide potential buyers with a better user experience based on existing data and shopping behavior. These are the "Recommendations" or "Suggestions for you" tabs that you can find on many websites today. Other items are suggested based on products previously purchased, viewed, or added to the selected item by other customers.
Here we will see further developments that will enable an ever more personal and personalized shopping experience. Machine Learning and Artificial Intelligence are two of the fastest rising e-commerce trends in 2020.
4 Voice Commerce and its impact on online commerce
Several studies, including one by ComsCore in particular, show that by 2020 over 50% of searches will be language searches. With large virtual assistants like Alexa from Amazon or Google Home, there are now simple applications on the market that allow third parties to use speech recognition technology. Online merchants can get started here and expand their online shops with smart language assistants. Today, it is already possible to order a pizza only by voice command. If you prefer to cook yourself, you can have recipes shown to you and order the ingredients online right away.
For medium-sized companies, a voice assistant is still far too significant an investment. With more and more service providers on the market and an ever lower inhibition threshold, voice commerce should undoubtedly be one of the strong e-commerce trends of 2020.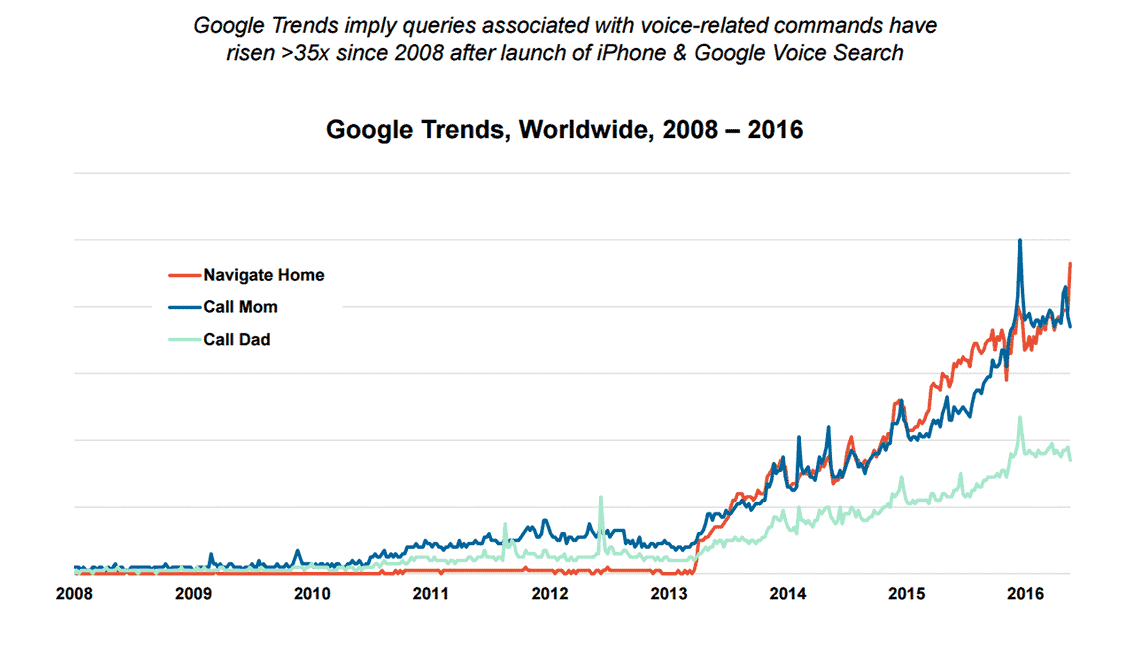 5 Big Data in the service of ultra-personalization
45% of all online shoppers would prefer to order in an online shop that can make personalized recommendations. And 56% of online shoppers would order again from an online shop that makes personalized recommendations.
Amazon has already well understood the opportunities of personalization in e-commerce and gives countless recommendations based on the previous shopping behavior of its online customers. Amazon thus offers online shoppers comprehensive customization using "your wishlist" or "your collection." But personalization doesn't end there.
Thanks to Big Data, which analyses shopping behavior, various e-mails are sent out with offers tailored to the profile. Large amounts of customer data are processed to achieve appropriate personalization.
The start-up company TinyClues supports e-commerce giants (VeePee, Sarenza…) in analyzing the data of their visitors so that marketing campaigns can be created. This allows the needs of their customers to be met throughout the entire purchasing process. With a single goal: to provide the user with the best possible experience.
6 Research Online Purchase Offline (ROPO)
8 out of 10 mobile device users perform searches to find specific products in stationery stores, and 18% then buy the product within 24 hours. Online queries that lead to offline purchases generate new data to evaluate the effectiveness of digital campaigns. With the many contact points observed today – mobile devices, social networks, CRM, payment methods and point-of-sale systems – the efficiency of digital campaigns in 2020 will be a significant source of data to refine the ROPO strategy.
7. Blockchain
Blockchain is probably one of the most hyped trends of recent years and allows data to be encrypted securely without the need for a central control point. As the most secure technology for databases so far, Blockchain has made the well-known cryptocurrency Bitcoin possible. Many companies do research in the blockchain area, and the technology is undoubtedly one of the significant e-commerce trends of 2020.
Advantages of the Blockchain
Fast and efficient processing of data
Increase the speed of online transactions
Securing payment methods
Online merchants thus benefit from the greater trust and can do more transparency. Online shops are faster, run smoother and offer their customers a better shopping experience.
Offer transparency. Online shops become faster, run more smoothly, and offer their customers better shopping experience.
8. Payment methods (virtual currencies)
Just ten years ago, there was much more skepticism in online trading. Customers often feared a lack of security and therefore, the danger of fraud. But this looks different today.
In the EU, 28% of purchases are still made by invoice, although payment services such as Apple Pay, Walmart Pay, Samsung Pay, or Android Pay have recorded pleasing growth in recent months.
Wallets (or digital wallets) make transactions easy, fast, and secure thanks to Touch ID or other technologies. It is therefore clear that these payment methods have a rosy future ahead of them, especially in the e-commerce sector. It is, therefore, important to always point out the different payment methods. This is the only way a shopping cart can show all current possibilities – and the online shop is a pioneer.
The introduction of virtual currencies opens up a whole new world for online trading. We cannot yet predict how e-commerce trends will be affected in 2020. Facebook has announced that the company is working on cryptocurrency for the users of your Whatsapp application. So we can expect many new developments next year.
9. Chatbots
Chatbots are intelligent technology based on machine learning. Customers chat in a virtual environment with an algorithm rather than with a real person. For your customer, this makes no difference at first: questions guide him through a predetermined process and lead to the desired result, such as service requests or product searches.
Chatbots are usually integrated as messenger bots on Facebook and can thus act as the first point of contact with the company. Sephora, eBay, SnapTravel, but also H&M are some well-known examples of how chatbots can be used to attract (new) customers.
"
47% of online shoppers would buy products from a chatbot, and 37% would prefer Facebook to online shopping.
Hubspot 2017
10. Logistics of the future
The dematerialization and automation of shipping logistics will become a massive challenge for the entire e-commerce sector, as parcel volumes increase massively from year to year. The management of traditional parcel services is becoming increasingly complex. They are constantly confronted with new digital providers that make the shipping process much more comfortable.
As with SendCloud. The All-in-One shipping tool allows you to automate the entire shipping process with just a few clicks. From importing orders, printing shipping labels, sending track & trace e-mails to automatic shipment tracking and returns management.
The solution can be integrated into all common marketplaces and shop systems (Shopify, PrestaShop, WooCommerce, Magento, etc.). In summary, SendCloud provides an intuitive dashboard that simplifies parcel shipping for all online merchants.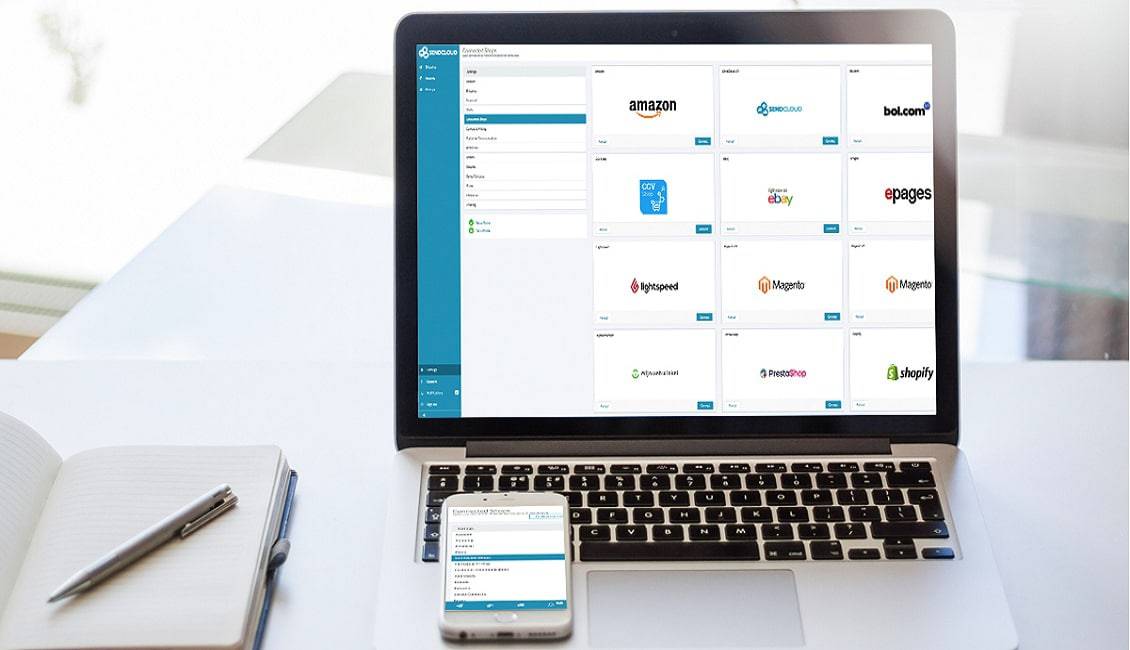 E-Commerce Trends 2020 – it remains exciting
The coming E-Commerce Trends 2020 are indeed manifold. But some technologies are still in their infancy. But developments in e-commerce are happening faster and faster, and only those who have a look at current trends understand the requirements of tomorrow.
At the same time, online merchants should always place user-friendliness and added value for their customers above technological possibilities. Do we really need augmented reality apps that show us what a rice cooker will look like in the kitchen? And at some point will we just order pizza via voice commerce and then pay for it with cryptocurrencies? We don't know what the future holds, but the way we shop will certainly change fundamentally.