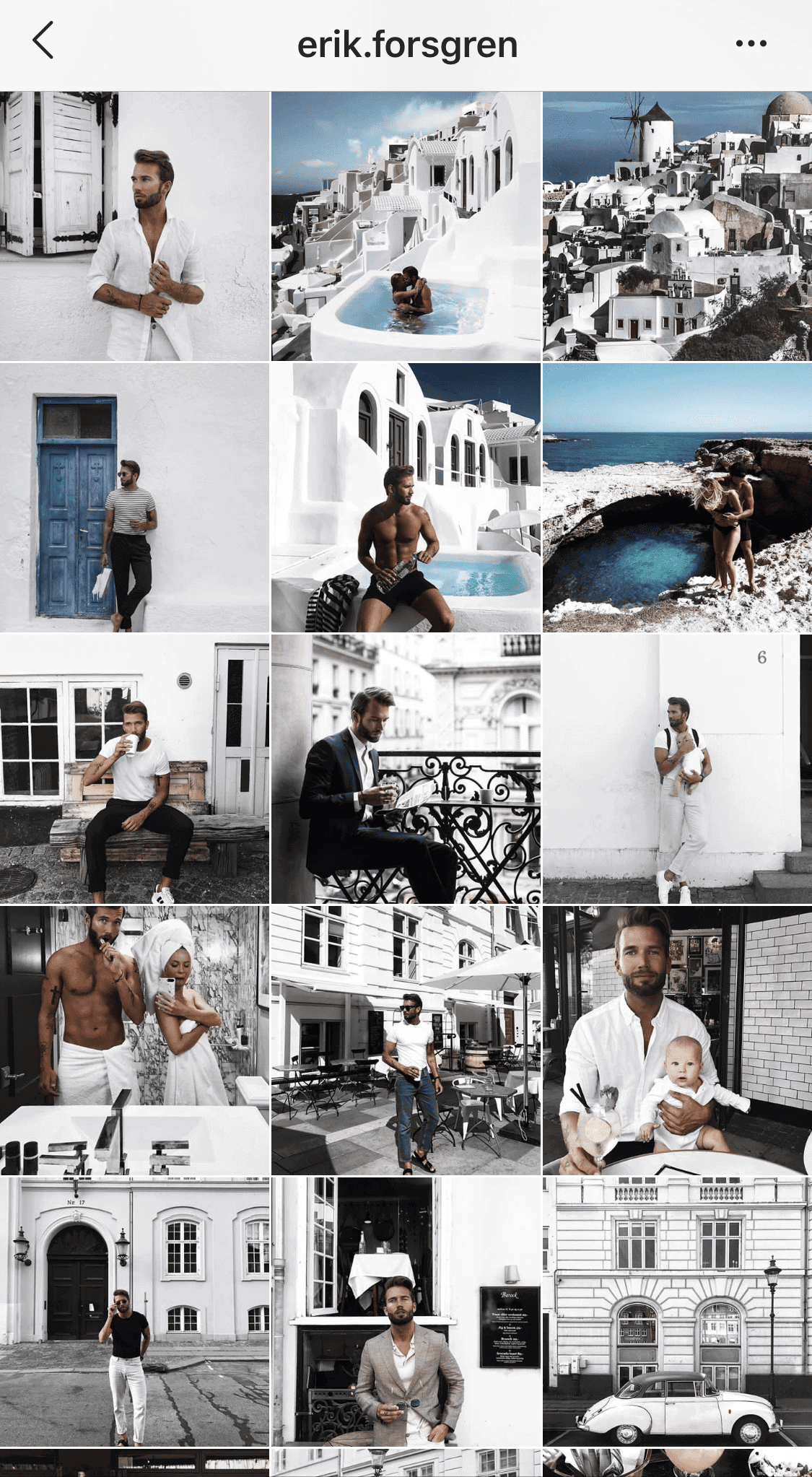 You are looking for visibility for your products.
And like any self-respecting connected person, you've heard about influencers as well as product placement on social networks.
The idea seems to be interesting. The potential is strong.
You inquire here and there.
But the concept is still vague for you.
What is product placement? Where to start? Which influencer to contact? How to contact him? Which partnership to propose to him? How to encourage him to talk about your products? How to be sure to succeed in your advertising operation? … Here are just as many questions you ask yourself.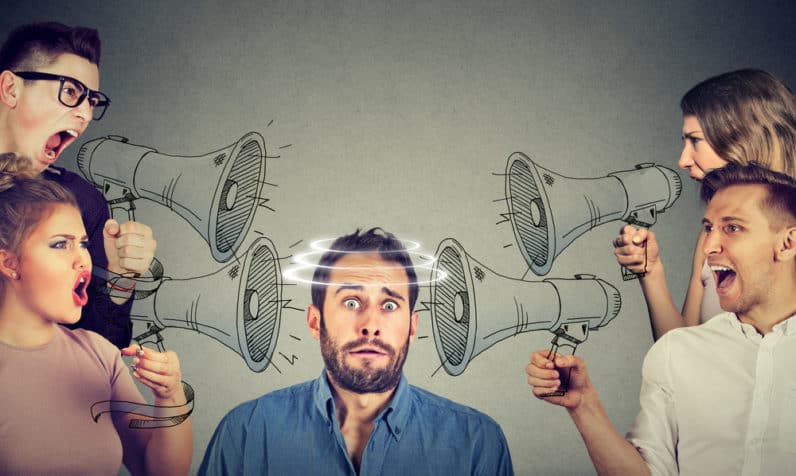 Rest assured.
At the end of the reading of this article, influencers and other bloggers, YouTubers, Instagrammers will have no more secrets for you!
And now is the time to get into product placement and marketing influence!
Here's the ultimate guide to product placement on social networks with influencers.
What is an influencer?
Before going into the heart of the matter and in pure strategy, it is necessary to define what an influencer.
An influencer is a big word … And we use it a bit anyhow.
First, do you know the difference between an influencer and an ambassador?
No?
It is straightforward.
An ambassador is a person who knows your brand or online store and who loves it so much that he recommends it around him with great pleasure. He does not necessarily have a big community. It comes down to his entourage, his relatives … However, it still brings you qualified prospects because he said that the good of your brand beforehand. And his network knows him, so trust him. Thus, the new visitor will already be convinced of the quality of your products and/or services.
And you know what we say? As soon as you detect your ambassadors, it's the ultimate in customer relationship. And it is appropriate to pamper them!
But that's not the subject …
An influencer does not necessarily know your brand but has a large community and therefore, an absolute power of influence in a specific sector: fashion, beauty, sports, cars, high tech, gaming. Has thousands, tens of thousands, hundreds of thousands, or even millions of people who follow him and who are inspired by what he posts for their own way of life, their consumption, etc.
A perfect visibility opportunity for your products!
There are several types of influencers depending on the social platforms on which they are invested. It is straightforward:
On Youtube, we find YouTubers. Their media: video.
On Instagram, we find Instagramers. Their media: the photo and to a lesser extent, the video.
As soon as an influencer owns a blog and makes it his main media, we will consider him as a blogger. He writes often illustrated articles of his most beautiful shots.
On Facebook, we can find influencers who animate large communities, primarily through the animation of groups or thematic fan pages. However, we do not give them too many names. We will talk more about the community.
Finally, Snapchat, we speak, simply, of the influencer. We will come back later on this topic because this network is especially plebiscite by a particular category of influencers.
To understand, their job is not to be an "influencer."
Besides, if one of them tells you that he is an influencer, it is because he has not understood the subject and is probably far from being one. We will speak instead of Youtuber, Instagrammer, Blogger … And the term influencer is a name that we want to give them when they have, via their respective social networks, an absolute power of influence.
Another misconception: an influencer has thousands or millions of subscribers.
False!
There are several categories of influencers, depending on the number of subscribers. Each of these categories has its specificities. Needless to say, the larger the size of the community, the higher the tariffs and the less the influencers are accessible.
There are 4 types of influencers:
mega-influencers with over 1 million subscribers Their costs are very high, and they are very solicited by the brands.
macro-influencers with 100,000 to 1 million followers. Their prices are high, and they are rarely available.
micro-influencers who have between 10,000 and 100,000 subscribers. Their costs are low but rising. They remain relatively accessible but are less and less.
nano-influencers with fewer than 10,000 subscribers. Their prices are flat or free, and their availability, high and often voluntary.
You may have understood, another good misconception is to want to bet on all the "big" influencers.
And no! You will see, later in the article, that you can lead an excellent communication strategy with "little influencers."
And you will also see that everything is not decided by the number of subscribers. Especially that they could be bought and at that moment, the influencer has an influence only on the shadow of him -even…
Why are influencers relevant to promoting your products?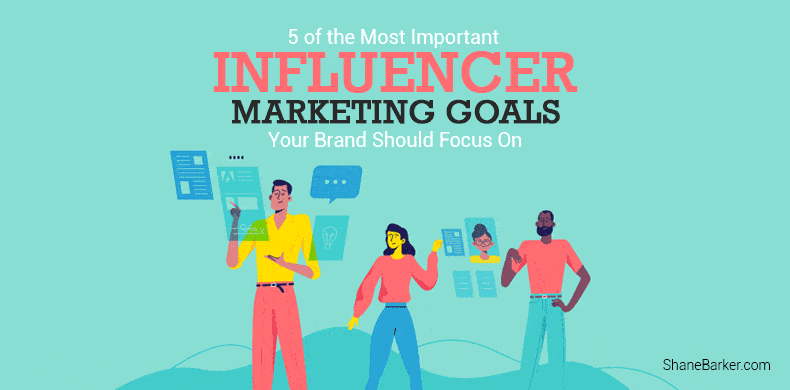 Let's go back in time if you want …
Remember what communication was before.
Access to speech was difficult and expensive. The communication channels were few. At the time, there were only television, radio, or music videos to place your products. And the cost of such visibility amounted to several tens of thousands of euros.
At that moment, consumers had a passive role. They did not have much power over companies. The communication was only top-down, from the company to the customer.
Today, thanks to social media, companies have all the resources they need to communicate and reach a broad audience at lower costs. On the other hand, customers also have access to speech and have become real consumers. Businesses have lost control of their communication. Communication is always downward, but it has also become bottom-up (customers return to companies) and horizontal (between consumers).
So much so that today, consumers no longer trust the commercials of brands. They prefer to rely on the opinions of other consumers who, by nature, are neutral and devoid of any attempt to influence.
We have thus arrived at the age of recommendation.
And in the era of recommendation, the influencer is king.
The idea is to take advantage of the influencer's audience to communicate around its products.
Influencers will give their opinion on your product (s) to a broad audience. And as we have seen before, the prospects that they will bring back to you are already qualified because convinced by the opinion of the person from whom they are inspired and in whom they trust.
Convinced?
Hmm … not completely!
The market for marketing influence was estimated at 2 billion euros in 2019. It could reach 10 billion by 2020.
Internet users, now very well educated to the trends of the Web and Marketing, are aware that an influencer could have used sponsorship and be paid a certain amount to talk about a product. Immediately, his opinion can be fooled by the remuneration he has received. The "big" influencers have already lost their authenticity.
As you will see later in this article, steps have been taken to overcome this disadvantage.
Anyway, you can now count on the "little influencers" to place your products. These are the micro-influencers of which we spoke above. They have a smaller community, but they are more accessible and have growing power.
Yes, but here they are … They are thousands. How to find the best influencers to place your product?
How to find influencers?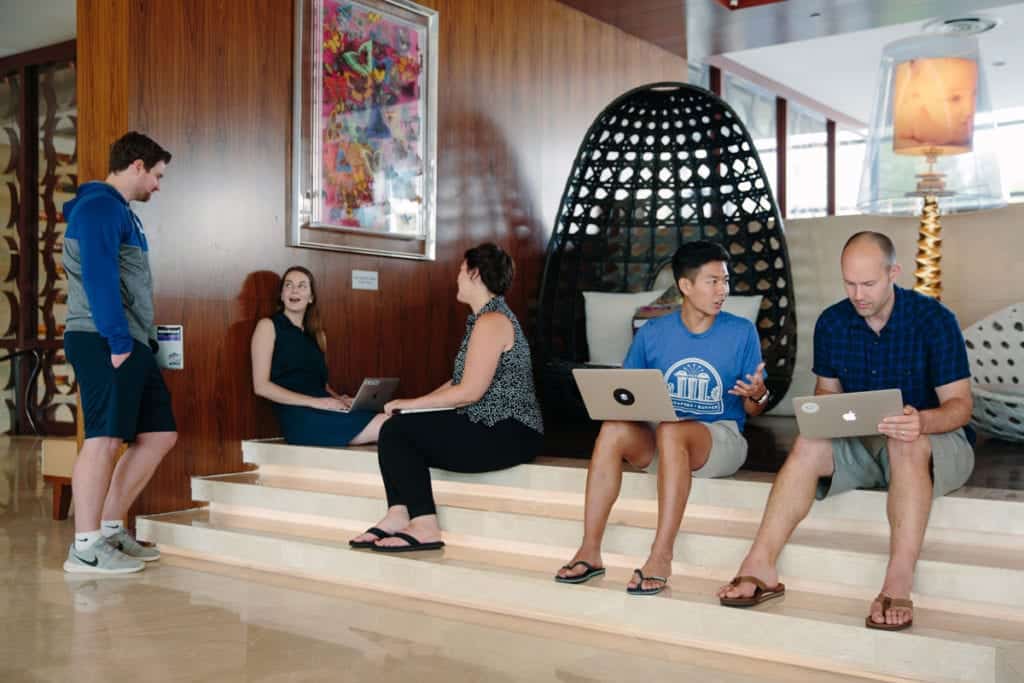 There are several ways to detect influencers.
The most traditional method is to ensure active monitoring on social networks, including Instagram, Youtube, and Twitter, where influencers are most active according to your industry.
It's a daily job, but I invite you to take some time to do it. You will see in the next section that it will significantly facilitate your commercial communication operation.
Before going any further, I must warn you.
Is not an influencer who wants.
And the size of the community does not mean anything.
You will be able to be attracted by an Instagramer to thousands of subscribers.
Who tells you he did not buy his followers?
Attention, yes, the purchase of fans, likes, comments is commonplace in the world of influencers. ALL are bought, even the number of views on Youtube, for example …
As much to tell you that these impostors will not bring you anything because they have a community that is not committed at all. Often based abroad, and who does not see his posts, who does not comment and ultimately, who does not click.
As they say, it's better to have 100 committed fans than 1000 who do not see your posts.
How to detect these fraudsters?
First, check their profile visibly. An influencer has 100,000 subscribers but only has 150 likes and very few comments on his publications?
Chances are it's an impostor.
Same if he has a majority of comments written in foreign languages.
This is the first thing to do to detect so-called "fake influencers."
However, you can (and must!) Go further with specialized marketing tools in the search for influencers. These analyze in detail the profile of the influencer and will give you several criteria on his community, such as:
the age group
city ​​and/or country
the language
And you will also know his actual engagement rate, ie, the number of likes and comments relevant to his publications.
Marketing tools to find the right influencers
I have 3 devices in mind that I can advise you to help you in your search for influencers.
Lefty is a complete marketing solution influencing in 3 steps:
Find your influencers: The Lefty search engine allows you to identify relevant influencers for your campaign from over 5 million profiles. You have access to all the account statistics you need to choose your influencers. Frequency of posts, the average number of likes, hashtags most used …) and its audience (age, gender, geography). These criteria help refine your search for influencers.
Manage your influencers campaigns directly from the platform. Once your recruitment is done, contact and exchange with your influencers via the Lefty messaging.
Measure the results of your campaign: With Lefty, you can collect your sponsored content in real-time with an automated reporting of the indicators defined at the beginning of the campaign. We will come back to this critical aspect of product placement at the end of the article.
Lefty also offers an automation feature. You can organize visibility campaigns in a semi-automated way with a tailor-made seeding program. This is large-scale product placement.
Social Blade
This tool (and the following) is handy for detecting "fake influencers." When you notice a suspicious activity like buying fans on a profile, I invite you to push your investigation further with these tools.
You will be able to study the quality of the profile of the coveted influencer.
Attention, before starting, I want to point out to you that these different tools are complementary. To analyze a profile, do not limit yourself with one tool. You will also see that it is appropriate to conduct the survey by yourself, with your little hands!
Social Blade is a tool that traces all the history of a social account, including Instagram. What is interesting is that we can see the evolution of the number of followers and follow (the people that the influencer follows himself). Curves clearly identify dubious fan buying strategies or follow/unfollow en masse.
Attention, if you notice a peak of increase in the number of fans on a given day, it does not necessarily mean that the followers were bought. Go to the social network in question and check whether, at that date, the influencer organized a contest or was identified on an influential account, for example.
On the other hand, a peak of 15,000 subscribers; for example, it is necessarily the purchase of fans!
The problem with Social Blade is that you can see for yourself, there are no more statistics after April 2018. The reason is simple: Instagram has restricted access to account statistics. Social Blade was no longer allowed to exploit them.
Anyway, the history remains, and it is already enough to detect fraudsters.
HypeAuditor
Another tool, HypeAuditor is a real alternative to Social Blade. And again, the 2 solutions are complementary.
Small problem: HypeAuditor is paying. This allows him, precisely, to avoid the same fate as Social Blade.
And that remains justified because the tool is powerful.
HypeAuditor not only analyzes the account of the influencer in question but also those of its subscribers. The tool will have a history like Social Blade but above all. It will see the accounts of followers to know who they are, where they come from, what language they speak. If they follow a lot of people, if they regularly comment, etc.
All these analyzes allow Hype Auditor to indicate a score of 100 hyper significant to "note" the influencer.
To go further, HypeAuditor analyzes the distribution of followers by country, by spoken language, by interest … And the tool also examines if the followers are:
Real people
influencers followed by more than 5,000 people
mass followers, which are accounts that support thousands of other accounts. These people do not see the accounts in their Instagram feed. They have no interest because they do not like publications.
suspicious accounts
HypeAuditor also gives a clue to the engagement generated by the influencer and places it in relation to the average of profiles that are like him.
How to work on your brand image thanks to the influence of marketing?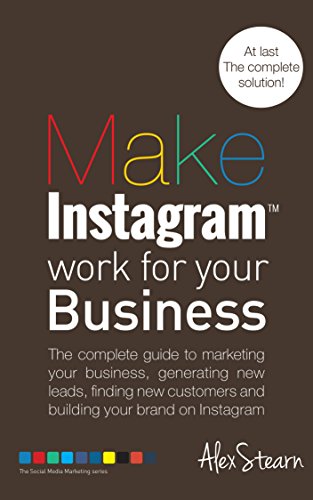 Making contact
Once you have found the influencers that match your criteria and your offer, you should contact them and make them your proposal.
First of all, be aware that a long-term job is a real plus to carry out your product investment strategy with influencers.
Indeed, start by following them on their social networks and react to their publications by liking or commenting, so that they already spot you. You begin to create a real relationship with them and when you want to offer them a partnership. They will be more inclined to answer you and accept your offer.
In the same way, you can also participate in the events where they are present to meet and exchange with them. If the feeling goes, they will test and promote your products with pleasure.
Once you want to send them your products for a highlight in their publications, avoid the private messaging of social networks. Your proposal may be lost in the mass of messages received. And it's not very professional either.
So prefer the e-mail.
In your e-mail, respect these few instructions:
Personalize your e-mail: avoid mass mailing. The influencer is not a journalist. Send him a simple press release, and it will end up in the trash in no time. Same if he realizes that he is in a hidden copy of the mail. The influencer is an egocentric strand. Show him that you are writing to him personally and to no one else. A mention in a hidden copy in your e-mail and the negotiation is lost.
Show the influencer that you are not writing to him randomly: you know him, you adore what he proposes, and you particularly enjoyed this or that publication.
Make him an exciting proposal that meets his expectations as well as those of his community. If you propose to test makeup to a blogger auto/motorcycle, you are next to the plate … The example is exaggerated, but it also applies to significantly different topics. For example, if you're proposing a meat restaurant test to a vegan blogger, you're wrong too.
Ask him about his budget. I think this is the best approach to talk about compensation. Indeed, the blogger does not pay his rent with t-shirts and makeup. And he becomes more and more demanding. Brands, on the other hand, are becoming increasingly aware of the need to pay bloggers. As a result, they will prefer to focus on these paid partnerships and sponsorship. So instead of giving him your budget and perhaps spending more money than he would have needed, ask him what his rates are. Undoubtedly, your mail will interest them, particularly.
Proposal
In this section, we will see what the different forms of partnerships are and how you can place your products on each of the social networks. Of course, there are many ways to proceed: photos, videos, stories, unboxing, review …
Above all, we will ask the question of the average budget, while keeping in mind that this particularity is really random according to each influencer.
Anyway, I advise you to establish a precise brief to submit to the influencers to frame the marketing operation with the formats of the expected publications, the key dates, the budget, etc.
Product placement on Instagram
Instagram is the influencer's favorite network with more than 600 million active users, most of whom are influential influencers. They work their publications, maintain a "feed" in a style that suits them, and that truly inspires the people who follow them. This explains the loyalty of the community.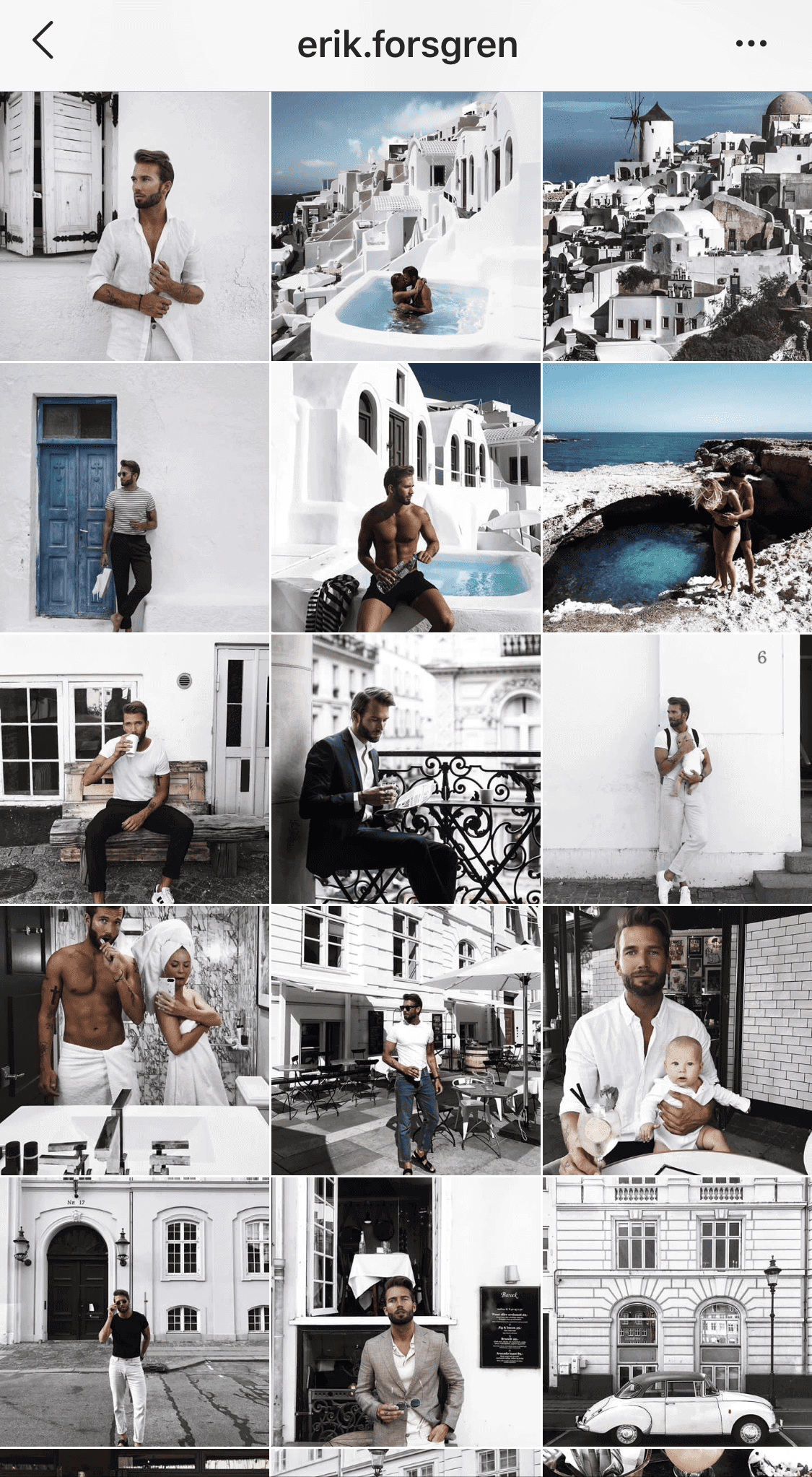 Example of feed worked with influencer @ erik.forsgren
The French Instagram star blogger is none other than Caroline Receveur who has, to date, 2.8 million subscribers and who finds herself hyped.
On Instagram, influencers permanently publish photos or videos on 3 different spaces:
The feed: publications composed of pictures or videos of 60 seconds maximum, accompanied by a legend in which it is possible to insert hashtags and "tagger." The brand to identify it and make it gain notoriety on the network. However, it is not possible to include a link to external content. To remedy this, influencers use the #Linkinbio mention and add the link in their biography, in the header of their profile.
The stories: a succession of ephemeral contents which disappear after 24 hours. However, users have the choice to select the stories they wish to put forward for an indefinite period, just below their biography. In the story, videos are limited to 15 seconds. The stories allow instantaneous, to go into details by addressing directly to his community and most importantly. Influencer to add a link to your online store if it has more than 10,000 subscribers and if his account is in professional mode. Subscribers just have to drag the content up to access the link. This is the famous "Swipe Up." Effective!
IGTV: new video platform on Instagram with a unique format: vertical and 60 minutes maximum.
As an indication, the average cost of a sponsored post for an influencer of 100,000 subscribers on Instagram is between 800 and 1500 €.
E-merchants who have created their online store with WiziShop have access to a complete and free video training on product placement strategy on Instagram. If you are not registered yet, now is the time to do it with the form below.
Create your online store
Product placement on Youtube
Youtube also includes a large number of influencers: YouTubers. In France, the best known are EnjoyPhoenix, Norman, Cyprien … They too are considered to be real stars.
1 in 2 people watches Youtube every day, so much so that the network has become the 2nd most used search engine after Google.
So you have everything to gain by exposing your products in YouTube videos of influencers.
Youtubers are known for having unusually dedicated and lively communities. The relationship is much stronger with an individual whom we see and listen to videos of several minutes rather than photos.
It is quite possible to associate a link to Youtube video content. Generally, influencers integrate it into the description of the video.
On Youtube, creativity can be infinite. Influencers have the opportunity to offer brands a qualitative campaign with videos worked, in a particular setting, with a specific staging, etc.
Budget level, product placement in the video of a Youtuber making 10,000 views, costs between 400 and 1200 €. Of course, it depends on the duration of the installation. Is it a dedicated video? Very creative? or a simple mention of a few seconds? …
Product placement on Facebook
Once again, Facebook being the 2nd most visited website in the world, this is particularly effective and safe advertising space for your products. Influencers can generate thousands of reactions, through a fan page or a forum type group; this 2nd space is more prevalent in the Web & Technologies areas.
Multiple contents can be published on Facebook: photos, videos, statutes, polls, events … And each one of them can contain links. This is the ideal social network to create traffic to your merchant site.
The only problem (and not least!), The evolution of the Facebook algorithm has limited the scope of publications. Today, without an allocated advertising budget, the posts are unfortunately little seen or more seen at all! The marketing operations related to Facebook product placement become much less attractive. This explains the presence of many sponsored posts on Facebook.
And this observation, unfortunately, becomes the same on Instagram.
For information, it takes, on average, between 300 and 800 € for product placement with an influencer that counts more than 100,000 Facebook fans.
Product placement on Snapchat
Very apart in the world of social media, Snapchat is particularly useful in reaching a young audience. It works exactly like the stories on Instagram.
Moreover, since Instagram introduced the stories on its social platform, Snapchat has lost notoriety. However, it remains highly acclaimed by the candidates of reality shows, such as Nabilla or Jeremstar.
For information, these personalities are, for the majority, represented by a product placement agency, Shauna Events. This one recovers the majority of the candidates of the television broadcasts of the channels NRJ12 or W9, such as the Angels of the reality television or Moundir and the apprentice adventurers …
To return to Snapchat, this network is also distinguished by the proximity offered. In their stories, influencers interact more intimately with members of their community.
On Snapchat, the publications are all ephemeral. It could have been a disadvantage at first glance. On the contrary, this specificity has created a fear of missing content from users. As a result, they spend much more time there.
As an indication, the remuneration for an advertising campaign of 10 00 views on Snapchat, is between 300 and 700 €.
Product placement for small budgets
This notion of budget brings me back to remind you not to neglect the "little influencers."
Most mega and macro-influencers are represented by news agencies or advertising agencies, which implies more or less sponsorship.
More available, small influencers may even be willing to distribute your products on their various social networks.
You can make real savings.
They will always offer excellent visibility for your products and will allow you to work on your notoriety as well as your brand image.
Also, they will probably accept, more willing to write an article on their blog. And it will always be a qualified link to your e-commerce store!
The regulation for product placement on social networks
As I said above, the "big" influencers have already lost their power of authenticity because Internet users, well educated, know that they have probably been paid to talk about a product or service.
In the United States, to avoid misleading consumers, the Federal Trade Commission requires brands to report their partnerships since 2017.
Simply put, influencers can (and should) mention that this is a paid partnership through a hashtag #ad or #sponsorise, for example. And you must encourage them to do it to protect yourself.
Instagram has even developed a feature that is rolling out. Influencers of the social network can now very clearly indicate that their publication is the result of a paid partnership with a particular brand. When this is the case, the statistics of the release are shared at the mark.
This is useful for analyzing the performance of your marketing and advertising operation.
How to analyze the results of your promotional campaign?
As with any social media marketing campaign, it is quite challenging to analyze the performance of a product placement campaign with influencers. And yet, you must examine the returns of your advertising investments.
Here are some key performance indicators that can help you analyze the performance of your operation with influencers:
The increase in traffic on your website: if influencers have posted a link to your online store, the number of visits must increase significantly.
The number of sales: to go further, you can even offer influencers to offer a promo code to their community. Thus, you can easily count the number of sales generated through their posts.
The progression of the followers: since the influencers identify you on their publications, you gain visibility on the various social networks and naturally increase your number of followers.
Conclusion: Entrepreneur, you have the soul of an influencer!
I wanted to conclude this article with a fascinating observation for your online business.
Indeed, you have everything to gain when you are, yourself, influencer.
Yes, you! Entrepreneur, founder of your own online store …
Take 3 examples …
Guillaume Gibault, President of the French Brief, is a renowned and influential entrepreneur. It is so much that it is everywhere. We see him on all the TV channels in the newspapers …
He even became a columnist on C8 and Europe 1 on the topics Made in France and startups. In recent months, the brand has launched a series of videos "I'm going … but I'm afraid!" On its Youtube channel. Guillaume puts himself on the scene and presents his advice and tips that have made the success of his company to help entrepreneurs get started and grow.
Brands and companies that are likely to seduce him, even send him some products so that it offers them visibility in its various publications.
However, let's think a bit … What better than such visibility in the media to place your own products? It is enough that Guillaume dresses in French Brief from the feet to the head during his various televised passages to make a much more effective product placement.
Another example: Audrey Lieutaud, Founder of the e-commerce website and the MonPetitBikini.com brand.
It is by collaborating with the blogger Noholita and by appearing alongside her that Audrey has itself gained notoriety on social networks, beyond the visibility offered to its brand. Since then, Audrey has become ultra active and followed on her blog and Instagram account. She presents her daily "Girl Boss" that she combines with her role as a young mother.
Again, it's straightforward for Audrey to talk and introduce her new swimsuits when she posts a photo of her at the beach. Quite simply, when she shows up on the premises of her company. And it's free visibility, moreover!