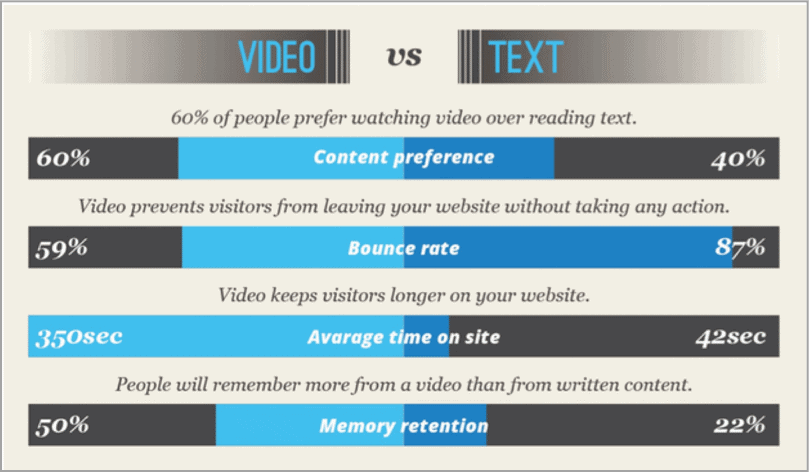 Videos play a vital role in our connected society, greatly influenced by the evolution of the digital world. The majority of companies are adapting their marketing strategy to add videos to their site. This allows them to get to the point faster, to show their activity, to capture the attention of their audience better. This medium, very malleable and relevant, is particularly valuable for your business because it is more attractive than words or simple images.
A video helps improve the SEO and ranking of your site on search engines. You wonder how? We see that right away.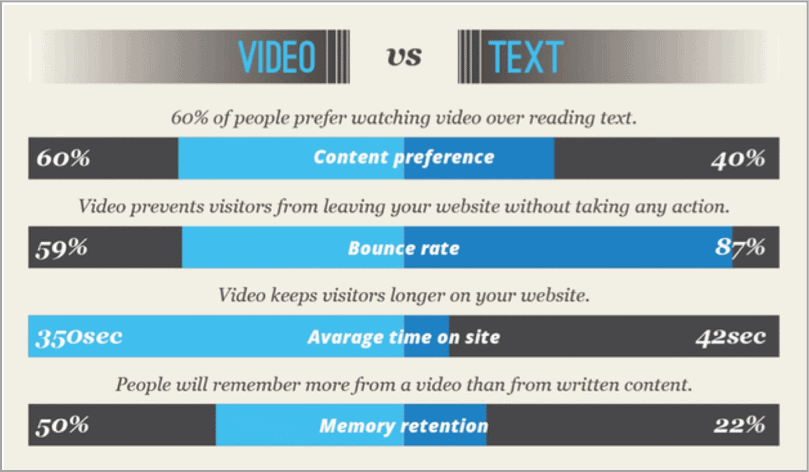 Why are videos so popular?
The best videos are usually short and friendly. Like film trailers, they are there to make the visitor want. The process is the same for your business: a video is a clear and concise medium, which must give a lot of information about your business, in a minimum of time.
Some figures on the impact of the video format
In a way, it is often said that a picture is worth 1,000 words. Starting from this principle, we obtain, at the rate of 30 images per second, a total of 30,000 images for a video of 60 seconds. This minute represents a total of 1.8 million words to present your business.
The videos are powerful storytellers. They tell a story that will stay more easily in mind and last longer than mere words on a screen. 80% of Internet users remember seeing a video during the current month, and more than half of these users followed the information it contained. Have you ever wanted to make or buy something just by seeing an advertisement on TV? This is normal: this is the purpose of advertising and the power of video.
The experience of the target user is also a factor to take into account. The videos tell us everything we need to know through a mix of visual effects, sounds, and movements. They are available in many media, including smartphones, which account for 60% of video viewing.
Some examples of the impact of the video
Everyone remembers the famous Marmotte Milka, which puts chocolate in the foil. This video is still available on YouTube.
We also remember the Nestlé pub for its ChocoSuis ' yogurt, with the famous goldfish Maurice, who ate all the ChocoSuis'! Or the ads for the Tictac, always full of color and rich in music.
Today, experts predict that videos will account for more than 80% of Internet content consumed in 2021. This support is boosted by mobile phones, smart speakers (Google Home, Amazon Alexa) and voice searches (Windows Cortana). Adding videos can only bring beneficial results to your business.
How can videos help you boost your SEO?
Always eager to better understand user requests, the giant Google has created an algorithm called Hummingbird. This algorithm makes it possible to change the way the search engine works. Rather than focusing on the keywords, he will want to understand the user's real intent, find the real answer he's looking for.
When creating a video, you have to think about the question it will answer. Indeed, when it's possible, Google answers questions like what and how with videos, presenting as a suggestion, an instant answer, or a results page including only videos. Experience, if not already done!
If your video brings a relevant answer to a specific question, it will allow your site to climb the search engine rankings.
How do videos help boost your Google SEO?
You have very little time to convince a visitor to stay on your site. A video offers you an undeniable chance to keep this visitor longer than the average because he is obliged to look at it thoroughly (or in part) to see the information it contains. The video also allows better absorption of said information.
It is estimated that a visitor spends 2.6 times less time on a website that does not include video. On the other hand, the longer this visitor stays, the more search engines can see the value of your video, and realize that your site is trustworthy. This is how they give you a better place in their rankings.
The more your video appeals, the more time the visitor will spend exploring your site, to see all the offers. This raises your number of views and decreases your bounce rate. A video brings answers in seconds and pushes the user to stay on your site.
Some examples of the impact of video on SEO
The Oasen and The Yacht Company sites display videos in the background of their home page, which showcases their products simply and effectively. Videos are, therefore, solutions to increase visibility.
Also, users tend to click more on the pages presenting videos in response to their search. Therefore, if your video appears on Google, you increase clicks and visits to your site. Add to that an update from Google, which displays more information about your website and its content, so users know where they are going before they click.
A little extra for the visibility of your video: choose a preview image. This is a crucial step because this image sometimes says more about your video than a long description or a long title.
If your video is terrible, people are likely to share it on social media and on their own sites/blogs. This is another significant factor because it creates backlinks or backlinks, that increase your credibility with search engines. By posting your video on a third-party site like YouTube, Dailymotion, Vimeo or other, you get backlinks that guarantee you a qualitative attendance, with a link to your website under the information of your channel / under the description of the video. A perfect video drives mass sharing from any other site.
Even if you do not have enough clicks on your video, making it appear your logo can bring you views, and impose your mark on the search engines.
Not surprisingly, Google is the largest search engine. He likes brands that fill all the categories offered by Google My Business: Google rewards them with a place in the Local Pack. Companies that come with images, articles, and messages are higher in the rankings than those that provide the bare minimum. Imagine what the addition of a video could bring you!
Creating an engaging video that explains how your business works in less than 30 seconds, and adding it to Google My Business gives you an edge over all your competitors.
Remember, the more recent your media content is, the more clicks you will get, and the more visitors will engage. Besides, Google keeps an eye on you through your listings.
Their immersive nature, combined with their use and popularity, make videos a growing medium, which is not about to slow down. People prefer to watch videos they will remember: this is where the success of your marketing strategy lies!
To conclude, videos are not only used for their marketing potential, but also for their SEO benefits. They have proven their effectiveness by increasing the visibility of brands, attracting more visitors, and raising sites in the search engine rankings.
Paying for the production of a video can bring you great results, both in the SEO strategy and in your marketing perspective. Making it a priority can only benefit you!