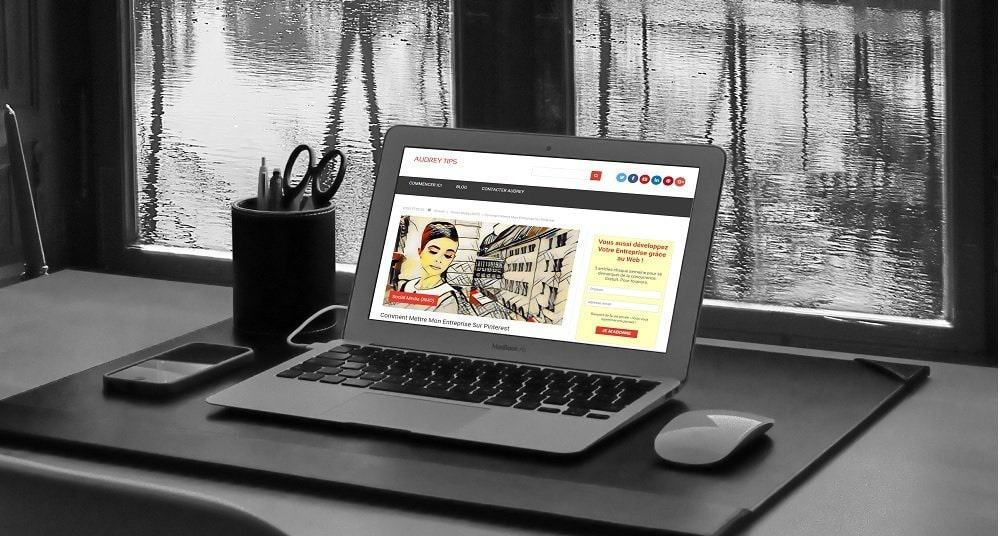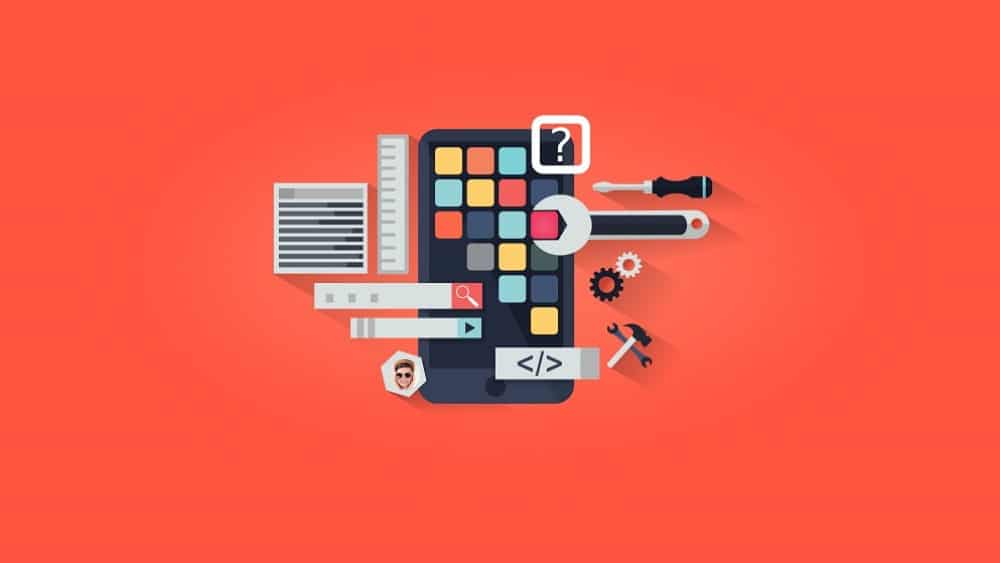 Need to better work your " Inbound Marketing "?
The other day at lunch, Laurent began to enumerate a whole series of tools and finish with:
What I love about Digital Marketing, especially in Inbound Marketing, is the incredible number of tools available. If an entrepreneur can choose the right tools and use them properly, he will quickly stand out from his competition. As a result, the prospects are all heading towards him.
We think we dream. Prospects who come to you as if by magic.
Indeed, as we recall Marketing Definitions :
Inbound Marketing refers to the principle by which a company seeks to have its prospects or customers turn naturally or spontaneously to it by providing them with useful information or services.
Besides, Inbound Marketing is used to generate trade leads regardless of your sector of activity:
Some agencies advise inbound marketing for the industry.
Some use it to innovate to attract and recruit the best candidates,
And myself to teach entrepreneurs to understand Digital Marketing better to find new customers.
The reality is so much more delicate than theory, and finding the best tools for the job can be a fierce battle.
Supply of tools for the Inbound Marketing too provided
If you're like most Digital Marketing specialists, you know there are a ton of tools specifically designed to help you in some aspects of Inbound Marketing.
Besides, the competition between tools is fierce, resulting in a plethora of offers and not enough time to test them all, not to mention the budget.
If you are trying to find the tools your business needs, do not panic.
The right way to choose the essential tools for your marketing campaigns may be to take a step back and look at the 4 crucial elements of Inbound Marketing.
Attract prospects,
Convert them,
Have them a sign,
Satisfy them.
By focusing on this 4-step approach to your funnel, choosing the right tools becomes a lot less daunting. That's what we do all the time for you.
But which ones are best for your Inbound Marketing?
Today, I give you a list of handy tools to save time for your Inbound Marketing actions.
Not just any list:
My Top 10 Tools for Inbound Marketing!
So let's go!
I start with the number 10 and go to the bottom of the article to discover the absolute must to generate qualified leads for your business.
# 10: Slack or how to organize and communicate effectively
Many entrepreneurs can do without them because they work alone.
But as soon as your business starts having employees and service providers, it becomes urgent to get organized.
For that, you have many solutions: Trello, Asana …
But it's Slack that I recommend as one of the 10 tools for Inbound Marketing!
The tool is practical and straightforward for organizing any type of projects.
Slack is free for small teams.
However, it remains very affordable for teams of 15 people or more.
To find your way around, create conversation "chains," each corresponding to a project or function of your company:
HR
Website,
Legal,
Digital Marketing,
Sales…
Each user communicates in the form of a written or video chat, shares his files, and many other things …
I really recommend this tool to organize the work in your teams!
N ° 9: SEMRush to master your SEO!
A good strategy of Inbound Marketing necessarily implies the creation of numerous contents.
Digital Marketing experts call this the content strategy.
A good strategy is to create, publish, and promote engaging, relevant, and useful web content for your prospects.
In short, content that your future customers will find, want to read and especially appreciate.
This web content takes many different formats:
Videos,
Blog posts,
podcasts,
infographics,
Simple pictures,
White Papers …
No matter the format, all have a common point vis-à-vis the natural referencing ( SEO ).
They are linked to a keyword or key phrase of the long tail to facilitate their visibility in the search engine results pages.
Indeed, when you type a keyword in Google, you get your content listed in the results pages.
This keyword reflects the intent of the user.
And all the keywords are not equal.
Some are very used, and others are less.
To know which keywords generate the most volume of potential traffic, nothing like working with a useful tool.
I have 3 options to offer according to your level of expertise:
For the pros: SEMRush if you have a budget of about 80 euros per month,
For who are starting to understand the ins and outs of SEO: Ubersuggest free and very full enough,
And for beginners: The keyword planning tool provided for free in Google Ads.
N ° 8: Yoast SEO to optimize its content for Google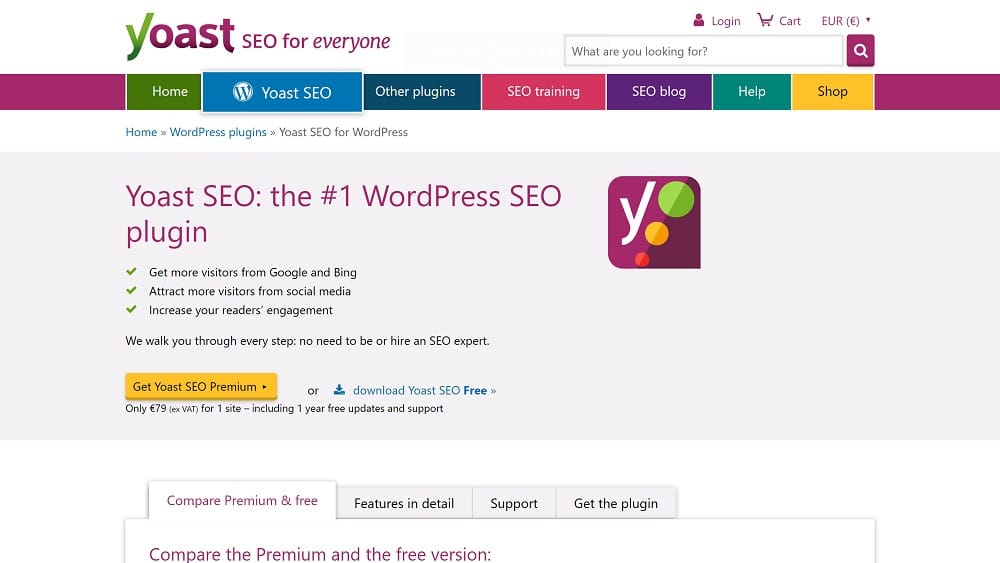 You use a content system (CMS), such as WordPress, to regularly post content on your company's website.
These contents will attract your prospects. This is one of the basic principles of Inbound Marketing!
And since there are so many rules to follow to write (in the SEO sense) Web content, it is useful to have a tool to help us work well.
This is where the excellent Yoast SEO extension for WordPress comes in.
Yoast SEO guides you with one recommendation at a time and in real-time as you write your articles, to achieve perfection!
No. 7: LinkedIn, the war machine for B2B leads
Do you go into Inbound Marketing to attract customers to your offer, dedicated to companies or professionals?
In this case, LinkedIn is the essential social platform, far ahead of Viadeo and Xing who pale in front of his hegemony.
To become an ace of lead generation on LinkedIn, I strongly recommend that you apply the following:
Refine your profile so that it becomes super attractive to the visitors who visit it,
Understand that LinkedIn is also a search engine. This is why it is necessary to work on referencing your profile (and those of your entire team),
Accept that you have to work to make yourself visible on LinkedIn: publish content, share, interact with the community …
Finally, to establish your presence, make the most of all the features on offer: corporate page, groups …
# 6: MailChimp, to automate your emailing feeds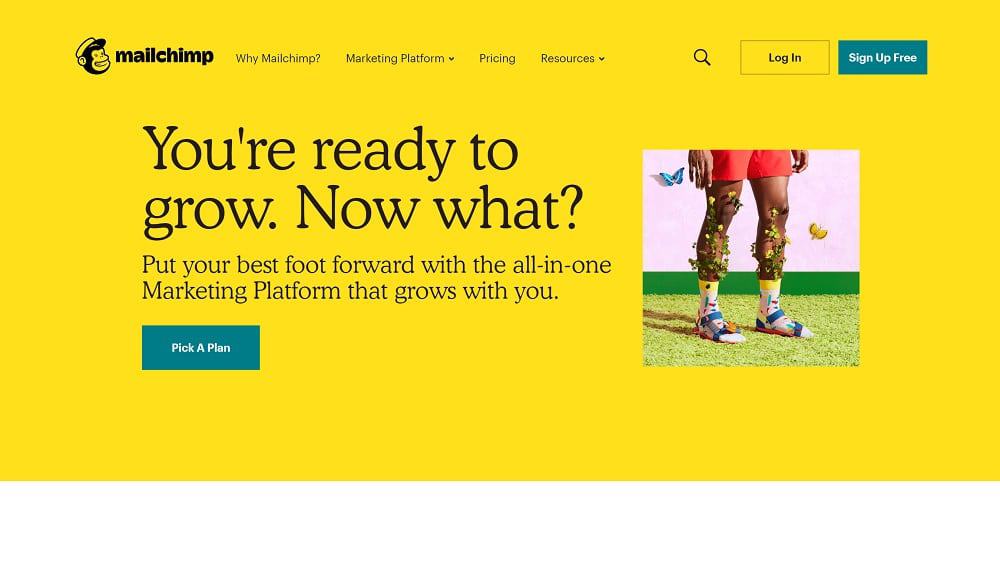 I can not talk about Inbound Marketing without mentioning email campaigns, possibly automated!
Indeed, the main goal of a landing page is to acquire qualified leads that fill in your contact form.
It's beautiful! But above all, we must convert these prospects into customers.
And that's where email comes in and a tool for sending emails like MailChimp.
With powerful automation features, MailChimp automatically sends personalized emails to your new prospects based on triggers that you have defined.
Here is an example of email chaining complicated to do manually:
Thank a prospect as soon as he has subscribed to your newsletter,
A few days later, ask him if he had time to consult your offer,
Once he buys one of your products or services, give them an exclusive discount on another product,
And so on, throughout the customer relationship
In short, MailChimp is a probustemailing tool unavoidable!
Once you see the limits of MailChimp, I advise you to switch to ActiveCampaign whose functions are more advanced to implement a successful Inbound Marketing strategy.
# 5: HootSuite, to automate your Social Media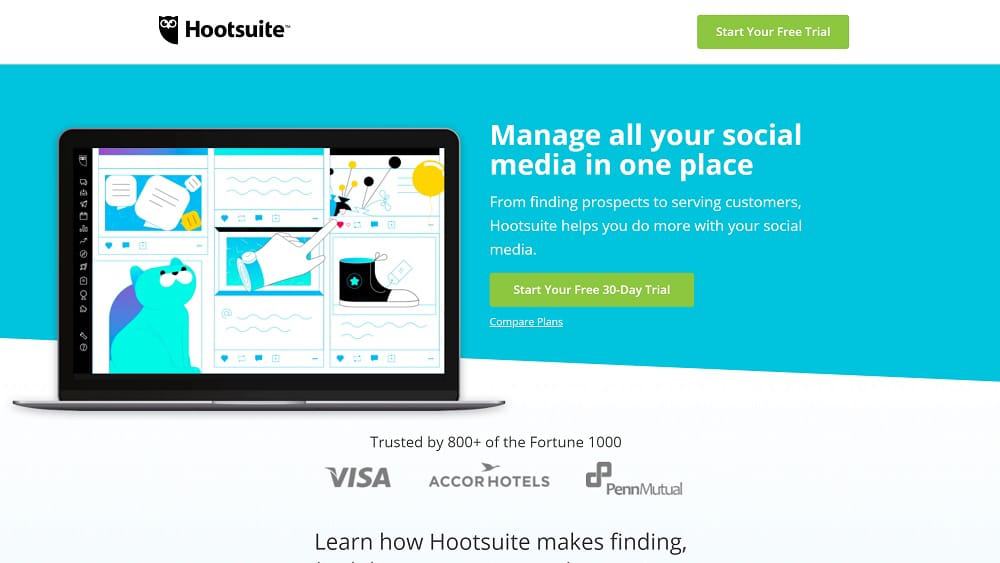 Imagine your company has 10 employees.
Each of them obviously has:
From a profile on LinkedIn,
From another on Facebook,
And even a Twitter account …
This represents dozens of accounts to manage.
Besides, each account receives compelling messages, social interactions, mentions, or shares …
In short, it is quickly unmanageable or much too time consuming to connect to each account one by one, to process the messages and actions it requires.
HootSuite greatly simplifies things by:
Repeating all the flows of your properties on social networks,
Centralizing all the management of your social accounts in one place,
Not to mention the implementation of monitoring dashboards.
And here is a small presentation of Hootsuite in about twenty slides by Samuel Robert :
Indeed, there are other tools for Inbound Marketing that are very successful as MeetEdgar and Buffer that I use too.
But, if you only had to keep one.
In my humble opinion, HootSuite is the most successful tool to animate all your "Social Media" accounts.
Note: You can not talk about social media marketing without mentioning the influencers and the Internet watch of its brand.
This is where a tool like Mention comes into play.
With Mention, you follow precisely and in real-time, all that is said about your business, and you easily spot influencers in your industry.
Then, once your influencers are spotted.
N ° 4: Tweepi, to mega-boost your Twitter account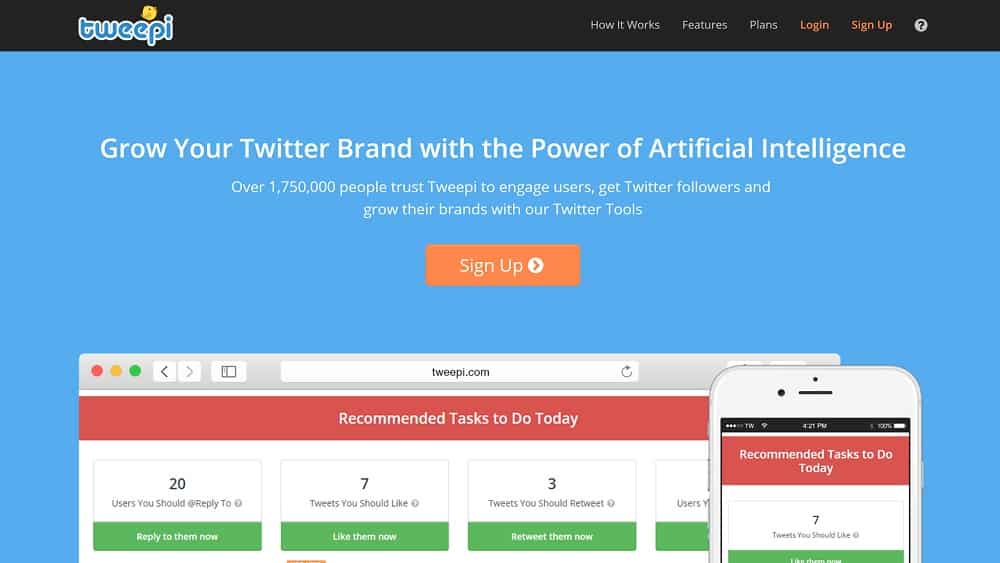 Tweepi is a great little tool for boosting your company's Twitter account.
It is a tool not very known. And its features have become less attractive than a few years ago. But he remains very relevant.
Roughly speaking, Tweepi automates mass to follow.
That's why Tweepi is to be used with care and intelligence.
Tweepi presents all the members of Twitter:
What you follow,
Who follows you (followers) and those who do not follow you.
And here's how to garner a few thousand qualified followers:
Follow Twitter members in your target,
Wait 1 or 2 weeks to give them time to follow you,
Then unsubscribe from the flow of people who do not follow you (unfollow).
To avoid the risk of tarnishing your image, here are my 2 main tips:
Think also "qualitative," even when Tweepi takes care of the "quantitative."
OK, you may want to follow 50 people a day.
However, take 10 seconds to verify that these are people in your target.
Go step by step!
If your Twitter account only has 112 followers, do not suddenly follow 50 more people per day.
Start with 5 a day, then 10 …
And follow 100 more people per day when you have 10,000 subscribers.
Let's continue with my top three tools for Inbound Marketing!
No. 3: Google Analytics, because without analysis, nothing goes!
I'm awarding the bronze medal for Inbound Marketing tools to Google Analytics.
Indeed, it is fundamental to analyze:
The characteristics and behavior of your visitors on your website,
But also, their source, conversion tunnels, what interests them or not, the hardware they use (PC, Mac, mobile …).
It's effortless, I consult my Google Analytics account daily, and some days several times!
Why is Google Analytics so important?
You will invest a lot of time in your Inbound Marketing.
And time is money.
Even if you do the work yourself, it's time you can spend working on something else.
Google Analytics is also the tool that forces to set indicators to follow and therefore, goals to achieve.
In short, Google Analytics "pulls you forward" to continuously improve the performance of your Digital Marketing!
N ° 2: The notion of Persona, to refine its digital strategy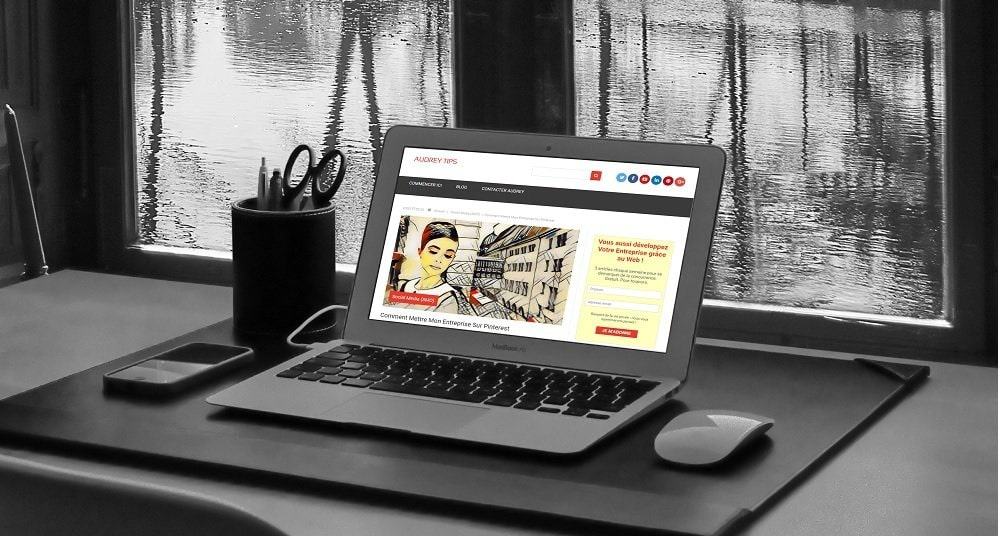 Have you heard of the "50-year-old housewife"? Well, "the 50-year-old housewife" is a persona start.
Personas are a crucial concept in Digital Marketing, and it is an indispensable tool for Inbound Marketing.
To establish them, it is a question of answering the question: Who are my target customers?
More concretely, the identification of personas goes through a series of questions like:
What are they like?
How do they behave?
Where do they live?
What are their passions or interests?
You will also try to understand their intention when these users interact with your brand, your website, your mobile application …
In short, the Persona is the tool that follows the adage of saying that we achieve better a goal if it was first well defined.
Before launching your Inbound Marketing campaigns, work hard on your personas, if possible in a team.
In this way, you give yourself every chance that your efforts are relevant to:
Your web content whatever the format and the support,
And your marketing approach in general.
BONUS – Persona: Pierre – Director of a consulting firm
# 1: LeadPages, for landing pages, fast and well
And finally, the favorite tool of my Top 10 tools for Inbound Marketing is … Leadpages !
To succeed in Inbound Marketing, it is crucial to get your traffic to pages in your site that are super-efficient in terms of conversion.
For this, Digital Marketing experts have been talking for years about "landing pages" or landing pages.
Laurent talks about aspiring to prospects!
The landing pages are web pages:
Presenting one of your offers in a simple and clearly identifiable way for the visitor,
With the sole objective of generating leads.
To optimize your landing pages, there are many aspects to take into account.
Let's take a simple example. Imagine that your company sells professional training.
For each training module, you create a landing page:
Presenting in a very striking and incentive way the critical benefits of the training,
Do not forget to add a contact form and your phone number.
This landing page is the starting point of the conversion tunnel to which your prospects will be sent since:
Your online advertising campaigns on Google Ads, Facebook Ads,
Your emailing campaigns,
And your contacts on LinkedIn …
Given the importance of landing pages, I advise you to use a powerful tool that has been designed specifically for this purpose.
Accuracy: simple, useful, not too expensive, I recommend without hesitation LeadPages. However, if your company's website is under WordPress, it's easier to use a page builder like Elementor.
For the pros: to optimize your landing pages, I advise you to run a "heat map" tool like crazyegg and set up optimization test games with Google Optimize.
Conclusion on my 10 tools for Inbound Marketing
No technology can compensate for a lousy strategy, but having the right tools to drive your inbound marketing can mean the difference between a "normal" campaign and a steady stream of prospects, appointments …
And even if the methodology around Inbound Marketing has not changed much over time, the tools used by Digital Marketing professionals to attract and feed prospects have become indispensable.
In this article, you have browsed through my Top 10 online tools that are as varied as:
To have a well-organized team
Publish pleasant web content to read for your readers, but also understandable for search engines,
To promote them on social networks and via email,
And give you indicators on the performance of your Inbound Marketing actions
Not to mention the must-have LeadPages to create "prospect vacuums."