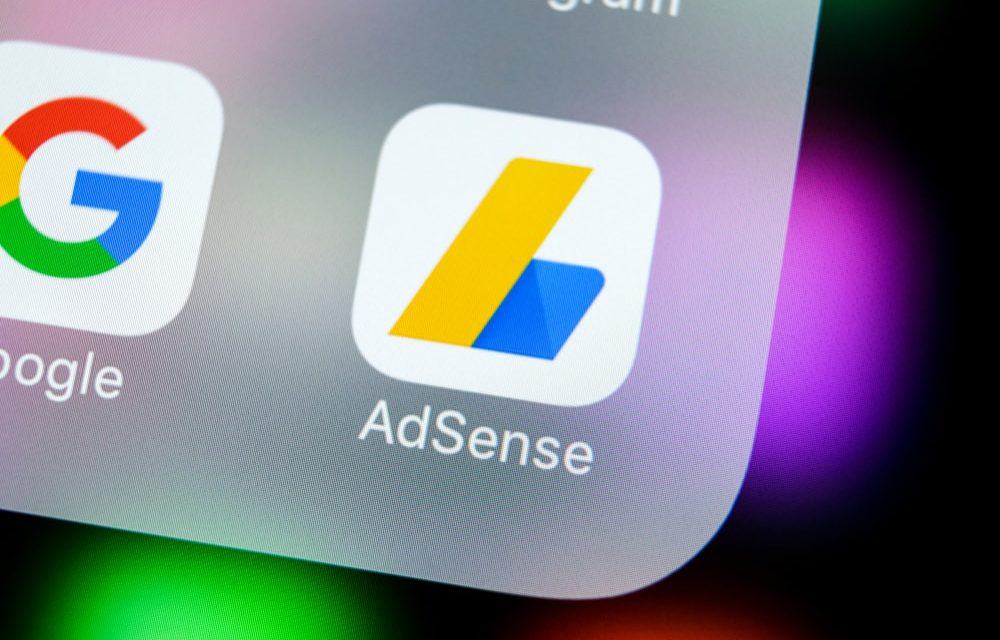 Google AdSense is an option for those who wish to generate income from a blog. Find out what it is and what you need to run ads on your page.
Currently, there are many ways to make money using a blog, but most of these strategies take time, require quality content production and continuous SEO work (optimization for search engines). search, like Google,) or SEO (Search Engine Optimization).
However, if you want to generate revenue through access to your posts, your blog, or your YouTube channel, you can sign up for Google AdSense to make money with ads.
This does not mean that you will have to give up your content production! The ads will be just an extra way to make money from your blog, and it's perfectly possible to do both things simultaneously.
So, let's see what you need to know:
Find out now what Google AdSense is, how it works, how much to pay, and what you need to get started!
What is Google AdSense?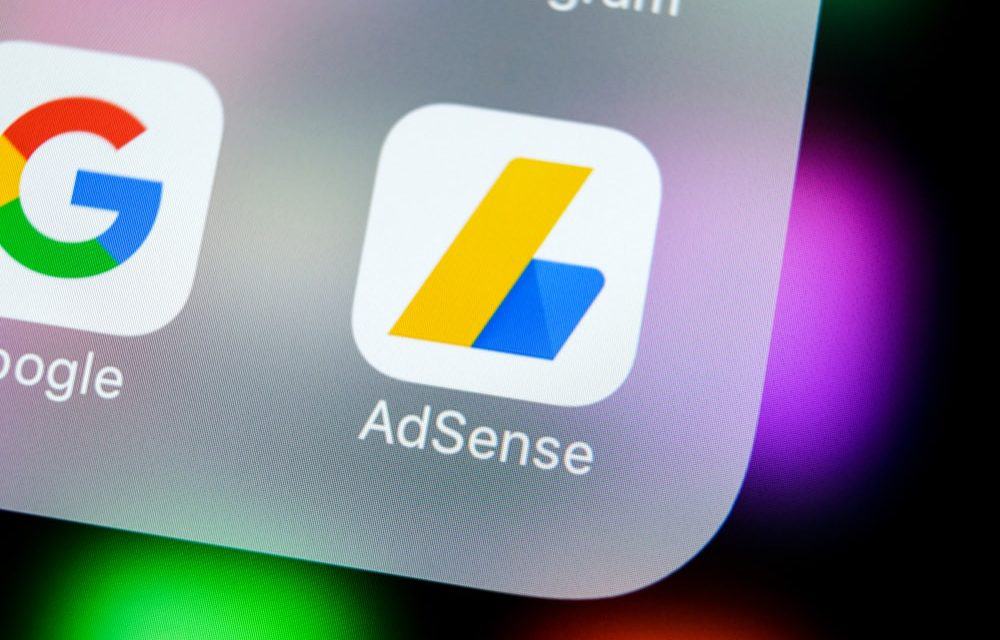 AdSense is a Google advertising program that allows you to show ads on your blog, as long as they are created on another Google tool: AdWords.
When you go to a website and see ads at the top or side of the page, do you remember seeing them?
The blog in question is likely included in the Google AdSense program.
What do you need to register?
Signing up for Google AdSense is no longer really easy. Just have a Google e-mail account, your own blog with 100% original content, a phone number and a mailing address, like your home address.
Who can sign up for Google Adsense?
Anyone over the age of 18 with a blog that meets the above criteria can sign up and use AdSense to earn revenue through ads.
Of course, there are restrictions on the type of content you share. For example, blogs that incite violence, prejudice or display explicit sexual content are not accepted.
How to sign up for Google Adsense?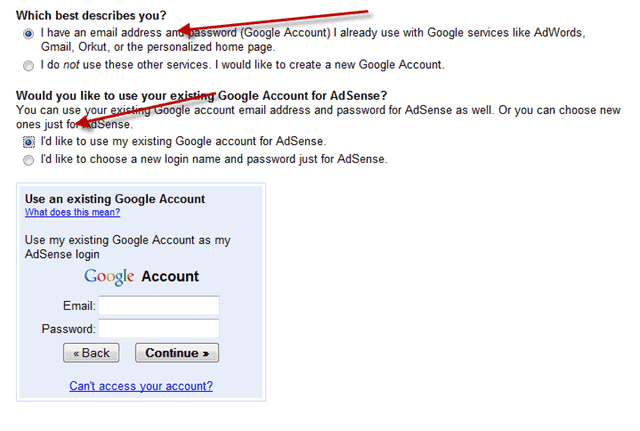 The Google AdSense registration process is very simple and you can complete your registration by following the step-by-step instructions below.
Go to AdSense. 
Enter the email address you want to link to your profile. 
Enter the name of the blog, the country of origin and accept the terms and conditions of use of the platform. We remind you that to create an AdSense account, you must have your own domain because postulants whose blogs are hosted in subdomains such as Tumblr, Blogspot, and WordPress. 
Before you agree to the program, Google must know if the content of your blog meets the guidelines of the company. Ads will only start showing on your page after this check. Once approved, you can serve ads on any page as long as they comply with Google policies. 
The last step is to add the bank details of the account where you want Google to deposit the money from ad clicks.
At the end of the registration process, Google will send a letter to your mailing address containing a verification code. This procedure may require up to two weeks.
How to make money with Google AdSense?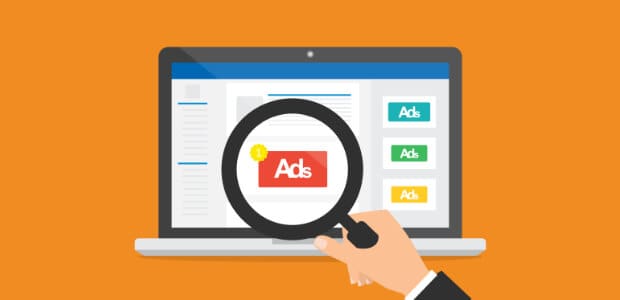 At this point, you may be wondering: but how to make money with Google AdSense?
There are currently two ways to generate revenue from ads on your blog:
Cost Per Click (CPC): Under this option, you will be paid each time a user clicks on an ad on your page.
Cost per thousand impressions (CPM). You will be paid based on the number of visitors to the blog. It's as if an ad is printed every time someone accesses your page.
The advantage of being an AdSense partner is that the algorithm used allows ads to be displayed based on users' interests. You just have to choose the type of advertising you want to exhibit on your site, as well as the location of the ad, and the tool will do all the rest.
Because your audience only sees ads based on their interests, clicks are stronger and it's precisely this type of interaction that generates revenue.
How do you affect your Google Adsense earnings?
When applying for registration, Google asks for your bank details? It is on the account that you will receive your payments.
Some important information:
The payment is made in dollars, using an international transfer made once a month, for the partners have reached a balance of one hundred dollars or more, until the 21st of each month.
The amount is converted into euros, according to the exchange rate of the day.
Pay particular attention to the taxes of your bank for this type of transaction. If you think they are abusive, you can opt for another establishment offering the same service at a lower cost.
How much can you reach using Google AdSense?
This may be the eternal question … and the answer we are about to give you may not be satisfactory enough, because the amount depends on several factors, such as the volume of visitors to your blog, the number of existing advertisers in your niche, the type of content you share on your site, among others.
To increase your earnings with Google AdSense, you must use the right keywords to attract qualified visitors to your page and, of course, offer quality content to engage those users.
Also consider the placement of ads on your page, trying to place them in a visible way to your readers, taking care not to compromise the visitor experience.
To find the best place to display your ads, there is no alternative but to test: place them on the top of the page for a month, then place your ads on the bottom of the page or below. Then compare the volume of clicks for each version, the best location will be retained.
Types of ads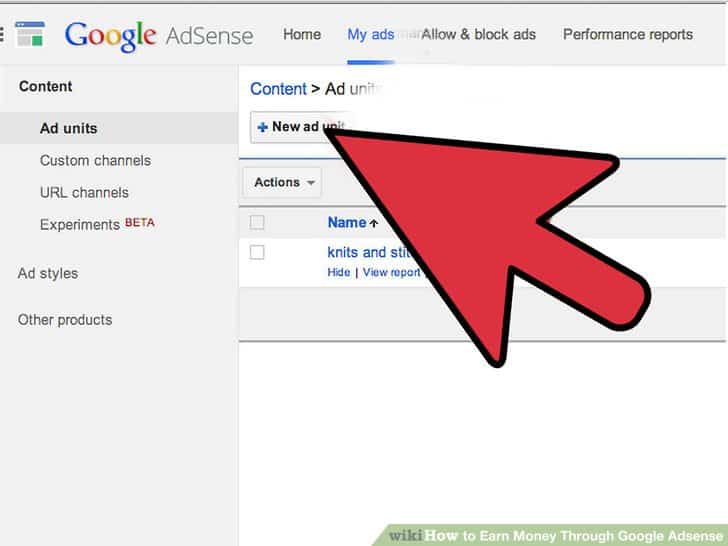 Text ads
Text ads, also known as sponsored links, are the simplest ads you can display on your blog. They usually include a title, which is also a clickable link that leads you to the advertiser's web page, one or two lines of text describing the product or service, and the address of a website displayed in green.
Image ads
Image ads are those banners that can be displayed at the top, side or bottom of the page. There are in total more than 15 format options that you can select for your ads, such as horizontal, vertical, landscape and square. Remember to turn on image ads for all ads or set a default preference for the account.
Rich Media
Rich media are interactive media: HTML, gif, and video. In general, they get more attention because they require action by the user, but they can compromise your visitor's experience if they are used excessively.
Block of links
Each block of links displays a list of relevant topics related to the content of your site. When users click on an item in the list, they are redirected to a Google ad page related to that topic. You will be paid each time the user clicks on one of the ads on the resulting page.
How to show your ads
As we mentioned before, the location of your ads is one of the most important factors in your earnings with Google AdSense. As a result, we will clarify doubts about this.
How many ads can be displayed on the page?
Google believes that excessive advertising can disrupt visitor navigation. So you can only show three ads per page.
Where should you place your ads?
The general rule is to place ads where they are visible to visitors, provided they do not violate Google AdSense guidelines.
How to place your ads?
Google AdSense partners can select not only the type of ad they want to exhibit but also the size of the ad, as well as the image and color of the respective text. At the end of this process, the platform generates a javascript code that you can place where you want the ad displayed on your site. This prerogative allows you to associate exclusively content in phase with the preferences of your persona.
Sounds complicated? Just follow this Google tutorial.
What are the criteria for selecting the ads that will appear on your site?
There are many factors to consider before an ad can be shown, but rest assured, Google will only try to show ads that are relevant to your content and relevant to your target audience.
If you'd like to block an ad, just click Permissions and block ads on your AdSense account.
Google AdSense on YouTube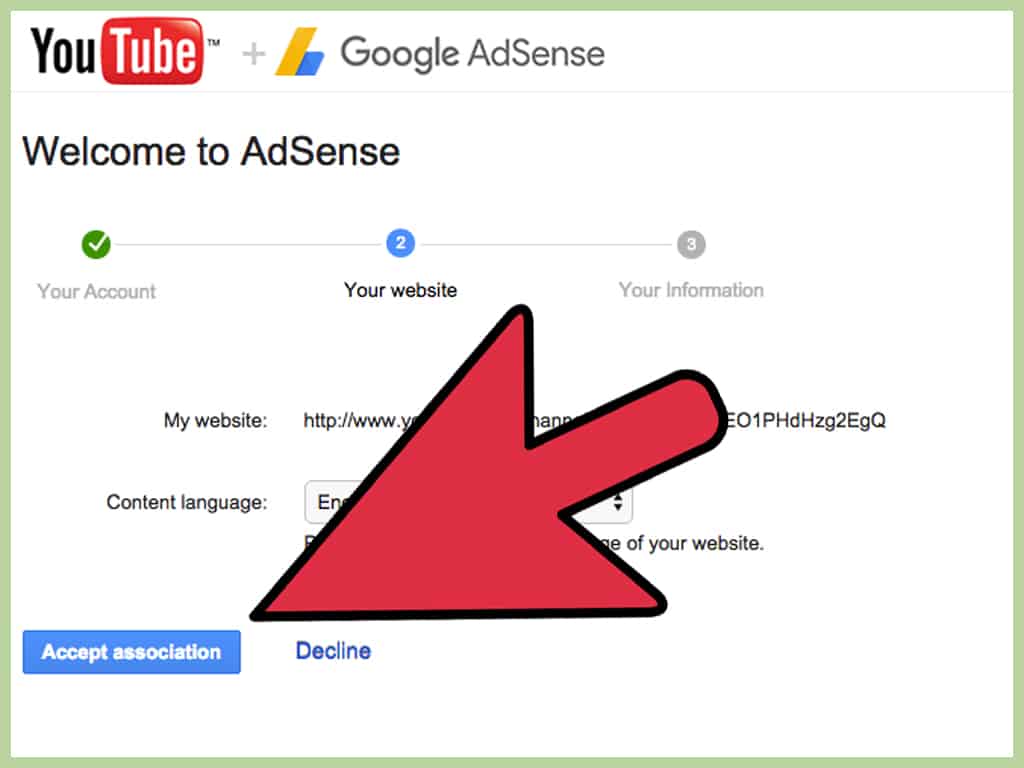 As your YouTube channel grows in popularity and attracts more visitors, you'll want to link it to AdSense to make money with view volume. It is one of the main sources of revenue for digital influencers.
The first thing to do is to check that your channel is already enabled for audience monetization. On the Creation menu, click on the Chain option, then on the Monetize option and check Enable.
Then click on the monetization settings. Here you have two options: create an AdSense account for your channel on YouTube or link your channel to an existing account. If you already have a blog or page registered in the program, we recommend that you choose the second option to "ignore" the entire registration and analysis process. To do this, simply click the Link AdSense and YouTube button, then sign in to Google AdSense normally and select the Accept Association option.
Once your registration request is approved, the Hosted Account label is displayed on the home page of your AdSense account. We remind you that to monetize your channel, you must have at least one video posted on YouTube, this content must be free of copyright, so you can monetize it.
A video recorded from a television show or a presentation filmed and disclosed without the permission of the artists can not be monetized, for example.
How much can I earn with my videos?
YouTube pays between $ 0.60 and $ 5 for every 1,000 views, which varies depending on your niche. To give you an idea of ​​what this represents, a video with 100,000 views can generate up to 500 USD or about 430 euros. This amount may be higher or lower, depending on the exchange rate.
This means you can generate the above amount with just one video. The good news is that this amount only increases as more people access your content, that is, the video can earn you income throughout its lifetime. diffusion. Not bad, is it?
Advantages and disadvantages of being an AdSense partner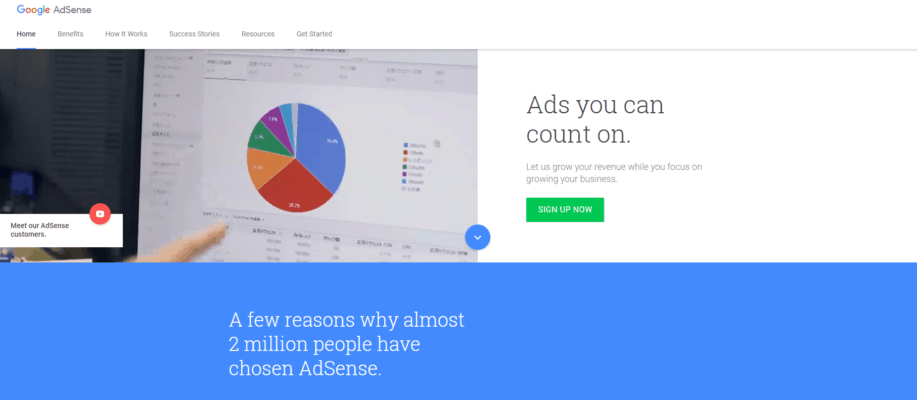 Like any business model, being a Google AdSense partner has advantages and disadvantages for the entrepreneur. Keep reading and find out if it's the best choice for your blog or channel.
Advantages
Many advertiser options
Advertisers using Google Adwords have two options to run their campaigns: on the Google search results pages and on the network of its partner sites, on the pages affiliated with Google Adsense. This means that there are thousands of companies competing for available space on your site or channel.
Variety of formats
AdSense offers a variety of ad formats, such as sponsored links, graphics, rich media, gifs, and videos. This variety of options gives you the freedom to select the most relevant ad type to display. Just set the format and dimensions of your ad, and AdSense selects the ad that's best for showing off.
You decide which ads will be displayed on your site
AdSense will not display anything inappropriate for your target audience without your permission. If an advertiser or campaign selected by Google is out of sync with your content or does not respect your principles, you can prevent that advertiser from advertising your page.
You have the option to monetize each time a user views your ad
If your audience is interested in the ads displayed on your page or channel, you have the opportunity to earn revenue. For contractors working on Cost Per Thousand Impressions (CPM), the amount is automatically paid each time a user visits your page or watches your video. If you use the Cost-per-Click (CPC) model, then click on the ad must be qualified, in other words, if someone clicks on the ad and closes the page next, you will not be paid.
Disadvantages
You have to have a lot of traffic
The amount you receive from Google AdSense depends on many factors, but the most decisive is the amount and type of traffic you generate, for one simple reason: the more visitors you have, the more people view ads, and therefore, the chances of clicking are more important.
New blogs can, therefore, take time to generate revenue based on this business model because they have fewer visitors.
It can compromise your user's experience
Nobody likes to access a website and be bombarded with advertising without asking for it. Although AdSense limits the number of ads per page, this volume can affect your visitors' experience, especially if they are accessing the site from a mobile device.
AdSense partners may have to wait for some time to receive their pay
Another disadvantage of working with AdSense is that you're only able to get the amount from ad clicks if you can exceed $ 100 by the 21st of each month. This factor may be discouraging if you are looking for a fast and secure source of income.
Working with Google Adsense still worth it?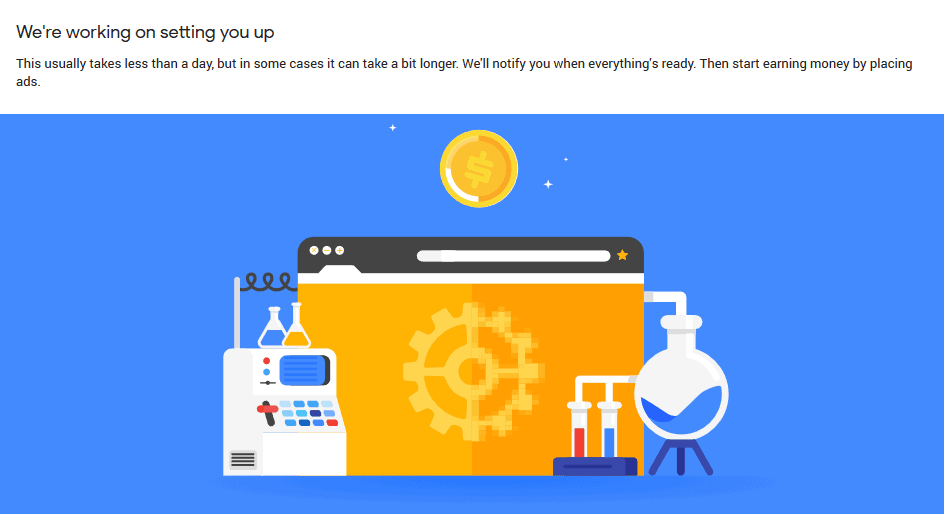 If you've come this far, you may have realized that Google AdSense is a viable model for bloggers and those who want to extract revenue. In 2010, the program was at its peak and many bloggers monetized their pages with advertisements.
However, many of them did not follow the best practices recommended by Google and ended up being banned. Others have realized that to work on this model, you have to generate a lot with the Blog / YouTube page so that there is a lot of clicks.
The answer to the question "Working with Google Adsense is still worth it? Is, in fact, another question: Are you ready to work on your channel (Blog or YouTube) to generate enough traffic?
If so, Google AdSense is worth it, if only to have an additional source of revenue.
For this strategy to work, care must be taken not to disrupt the experience of your users and not to reduce the number of accesses because of the volume of ads displayed on your page.
It should be noted that just because you have become an AdSense partner does not mean that you can abandon content production because it is essential to create authority and even to sell products if you want to go online. sponsored publications or working with sales, in the future
Many YouTubers and bloggers work in parallel with more than one source of revenue: Google Adsense, partnering with brands in exchange for commissions or products, recommending products (affiliates), selling physical products ( e-commerce ) or digital ( online course ).
If you plan to work solely on the Internet, we recommend that you evaluate all possibilities to better understand which one is best suited to your profile.
Here is interesting video from Adsense