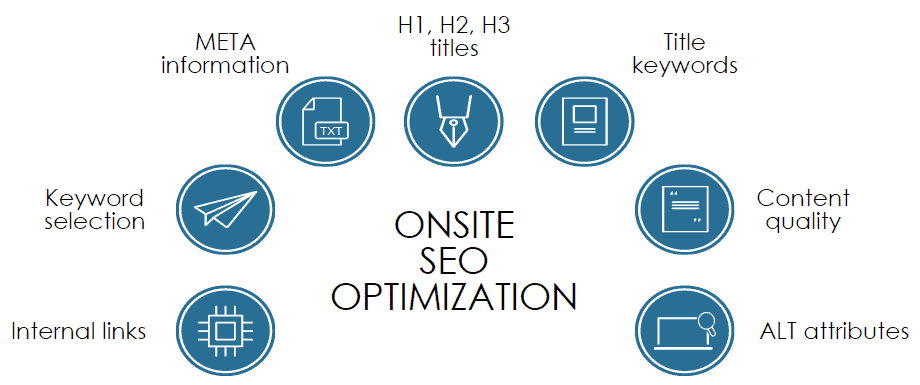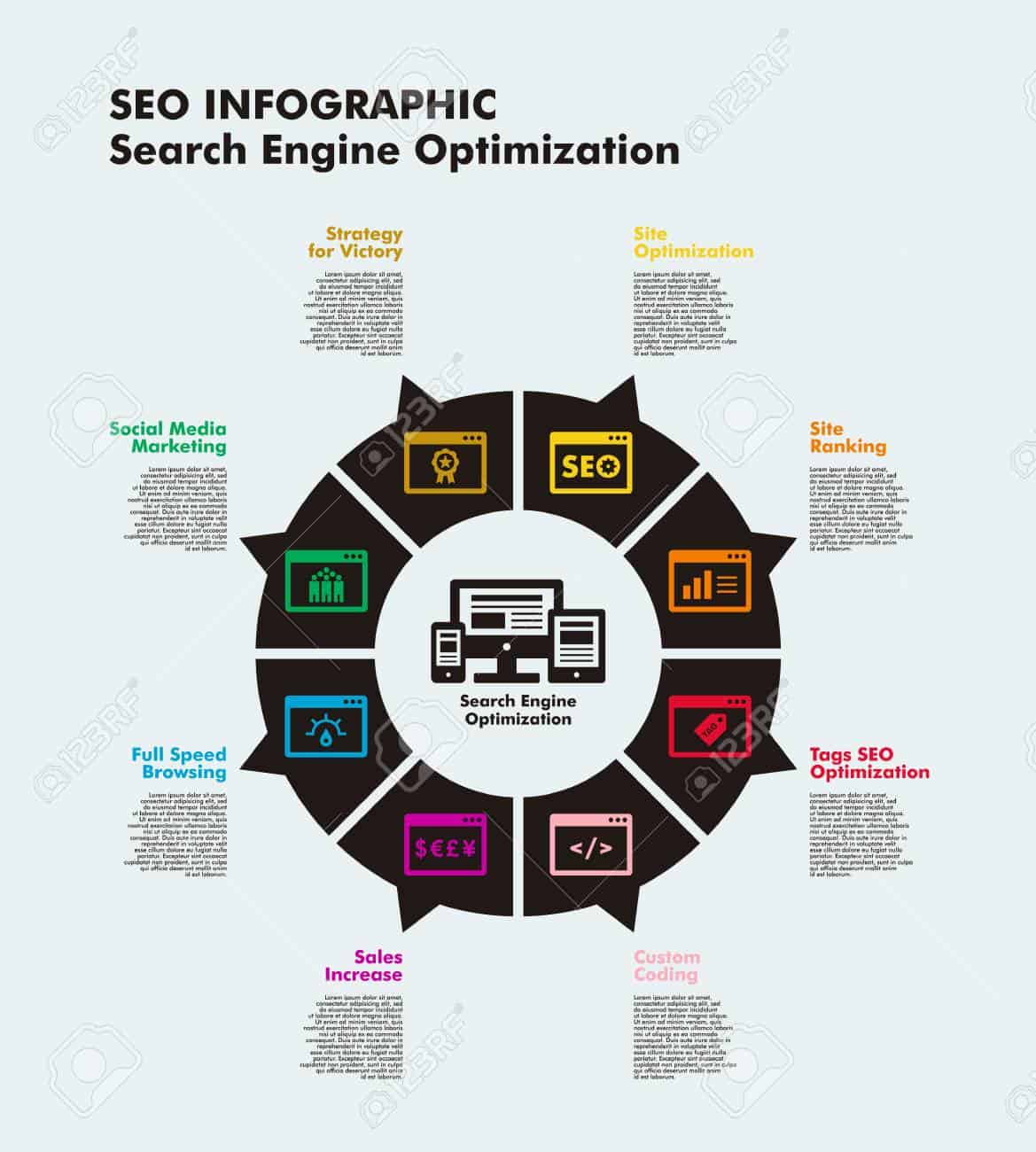 This article opens questions about digital trends such as voice search or chatbots, which will continue to affect SEO and corporate SEO strategies in the future.
It is divided into three parts (user experience, onsite and offsite), which highlight each important component of SEO:
UX (or user experience) and the importance of emotions: from RankBrain to web design
ONSITE and the importance of useful content : from rich content to mobile content
OFFSITE with a look at geolocation : from security to local searches
For future strategies, the focus is on the three points that cross the three important components of SEO:
Featured snippets : creating "snippet baits"
Structured data : Schema markup
Mobile SEO : fast loading time
A) Featured snippets: creating snippet baits
Featured snippets: What is it?
Google has found a simple, visual way to respond to users' queries. He selects excerpts from articles in the web content he deems relevant. Extracts are displayed at the top of the Google search results (in "zero position"), with a link to the page, the page title and the URL (source: Search Engine Watch). 
The feature has been tested in the United States since 2014 and introduced by Google in Europe in 2016.
To create the relevant content you have to refine the target, redefine the personas and bend to the game of questions and answers.
What are the types of featured snippets?
Featured snippets type "paragraph" is the most common. "Paragraphs" respond to the query as, for example, "inbound marketing definition" by giving a definition, or giving an explanation for the query as "why is the sky blue".
Featured snippets of type "list"; numbered or bulleted.

Numbered. They respond to the request by giving instructions in a list of steps. 

Here are some examples: "how to do", "how to drive".

At inches. They respond to the request by giving a list.

Here are some examples: a list of ingredients to make pancakes, a list of "best of", a list of "flu symptoms".

Featured snippets of the "tableau" type.
What is a "snippet bait"?
It is a 40 to 60 word content block specially designed to be classified in the Snippet spot (source: Backlinko).
How to create a "snippet bait"?
Create content that answers a specific question.
Use the H2 or H3 subheaders for each item in your list to create a list extract.
B) Structured data: Schema markup
Structured data: what is it ?
Structured data refers to information that is framed by specific tags that allow search engine robots to interpret it in such a way as to properly categorize your content in the results pages.
There are several formats for structuring your data, the main one being the "schema.org" format, by far the most used by websites.
But beyond the data tagging, the implementation of "rich snippets" can significantly improve the quality of your SEO and take a step ahead of your competitors.
Why is structured data important in SEO?
By standardizing your data as structured data, you enable search engines to fully understand the nature of the elements described, thereby improving your positioning in the SERPs.
By adding structured data to your content, search engines can more easily identify the queries for which your content is suitable.
Your structured data can make your content appear in Google snippets.
How to implement structured data?
Search engines are constantly striving to improve the user experience (UX), which is why they encourage web sites to use structured data to provide ever more accurate search results and specific features to the search engine. content displayed.
To facilitate the implementation of snippets, you must not only structure your data using tags (tags h1, h2, etc.) and use a coherent semantic field (keywords, long tail keywords …), but also put in place microdata (HTML5 tags) that will specify the nature of the data on the page and allow Google to transform this data into rich snippets or featured snippets.
Nature of different "rich snippets":

"Rich results": style, images and other visual enhancements."Rich cards": geographical position of a site (designed for mobile use)."Enriched search results": interactive or immersive features."Knowledge Graphs": graphic information about a brand, a product …Other: carousels, breadcamps (source: Moz )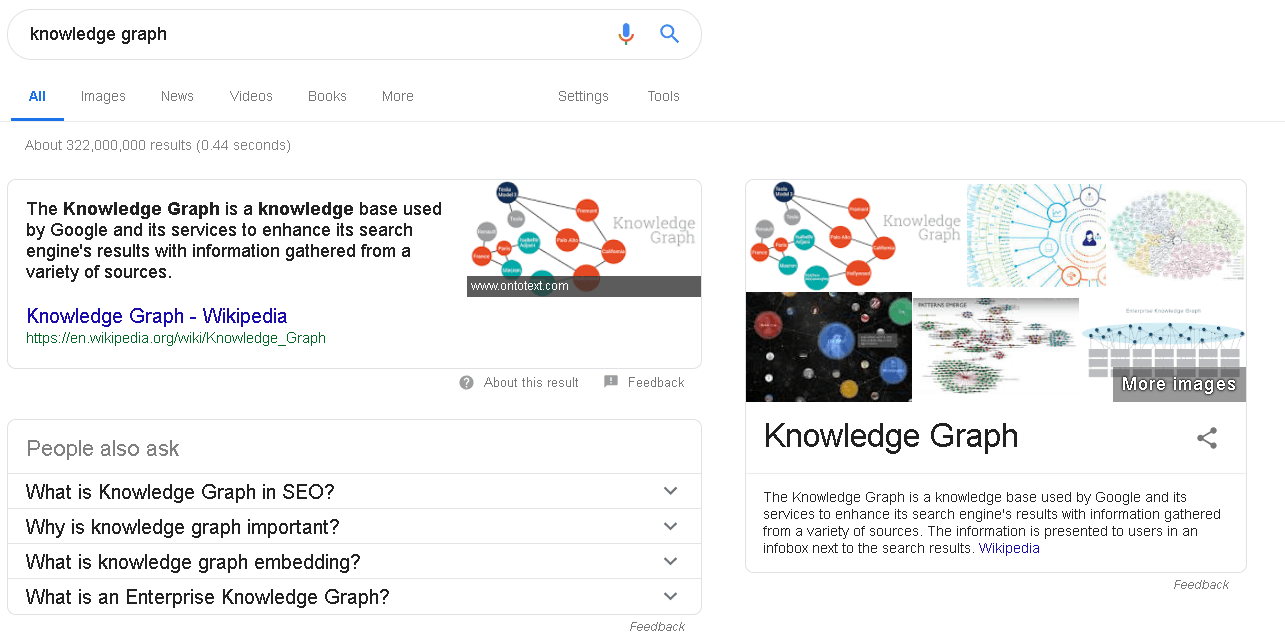 Example of a "knowledge graph" on the right
C) Mobile SEO: fast loading time
Mobile SEO: Why AMP and PWA are important?
Accelerated Mobile Pages (AMP) and Progressive Web Apps, are the keywords to make your site more mobile. The user stays longer on your site if: 

The page loads quickly.
The content is suitable for users. 
Progressive Web Apps: what is it?
A progressive web app (PWA) is a mobile application (or mobile website) directly accessible from a browser through HTML5 and which can, after authorization, use the features of the smartphone.
Google has implemented a list of controls establishing a rating via the built-in Lighthouse tool in the chrome browser that automatically verifies compliance with the features (source: Wikipedia)
What do PWAs bring to SEO?
PWAs load faster.

Progressive web applications launch directly from a web browser, they do not need to be downloaded to AppStore or PlayStore. They open faster than a native application

They are much better indexed than native applications.

As long as you use the App Indexing and look after the URL of your application, you have every chance that bots suck efficiently all your content and reference your PWA exactly like a web page.

They offer a better user experience.

In addition to having responsive design pages such as native applications, PWAs can be used offline, which makes the user experience even more enjoyable as the user can receive push notifications to return to the site. later application, both online and offline. (source: JDN)

1) The importance of RankBrain: CRT & Dwell time
What is RankBrain?
RankBrain is part of Google's positioning algorithm that analyzes what users are clicking on and whether or not they are satisfied with what's behind the link. This positioning criterion is an artificial intelligence system that has been known since 2015.
RankBrain aspires to guess the reason behind a query and positions a page in the search results based. To do this, he is concerned about which words or phrases have similar meanings but also the dwell time and the natural CTR rate of the page visited (source: Backlinko).
The CTR is the ratio of the number of clicks on a link in the serps to the total number of impressions of the site page.
The dwell time is the time spent on a page.
Why is RankBrain important today?
RankBrain is important because he is able to learn. This means that he continues to form an opinion on your site based on the behavior of the user. It is a tool used by Google to link the quality of site content and the quality of links it offers in the serps.
Imagine, you're a Google search engine, looking to provide users with the information they need, as quickly as possible. It would be interesting to develop a tool that knows how to combine factors such as the bounce rate of a page, the location of the user, the use of keywords, pogosticking , conversion rates, etc. to understand the will of the user.
Google now uses RankBrain for all its queries.
How to improve your RankBrain?
Use your Google Search Console to know your average position and your CTR. You will learn where to decrease your bounce rate (source: Moz ).
Specify the type of content you want to provide for a particular user's need and create your content by building your reputation in parallel.
Work on context and keyword concepts rather than one keyword per page.
2) AMP, loading speed
What is AMP?
AMP is the acronym for an open source project "Accelerated Mobile Pages" initiated by Google and its partners to improve the performance of mobile web content. The AMP format is composed of three parts:
the first one: AMP Html
the second: AMP js library
the third: AMP CDN / cache
These three parts allow faster loading and improve accessibility to crawlers.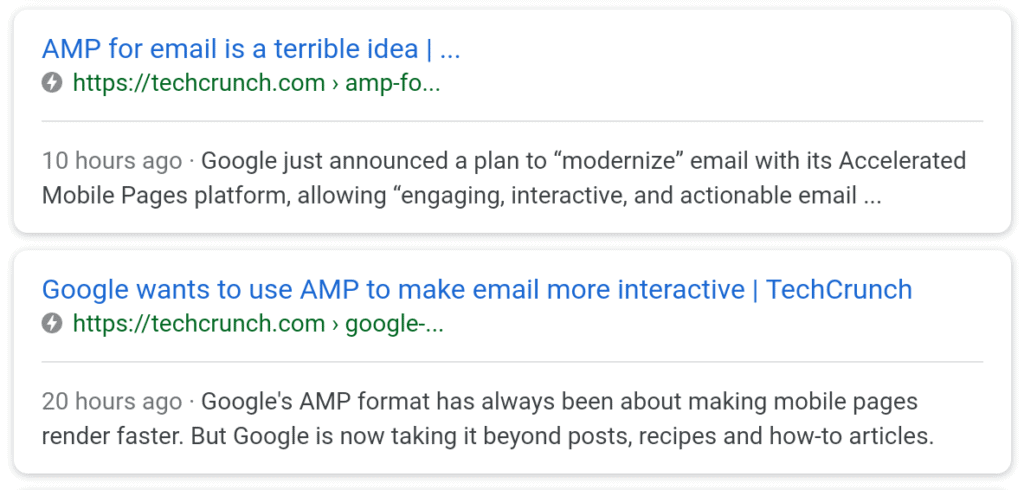 Why is it important for SEO?
This goes up to doubling the loading speed of the content and it can be crawled.
Speed ​​reduces the bounce rate.
Conversions are more important because of fast loading content.
Pages are indexed faster.
How to create an AMP page?
Create your AMP HTML page
Add an image
Change the presentation
View the result and validate
Prepare your page for discovery and distribution.
3) Chatbots; personal assistants
What are chatbots?
Chatbots are personal assistants of artificial intelligence. These bots make it easy to communicate with customers and give them the information they need 24/7 at any time.
They are integrated on platforms like instant messaging applications (chatbots on Facebook), or business application.
What are the important chatbots for SEO?
SEO is concerned with helping Internet users find the right answers as quickly as possible. Chatbots improve conversions, dwell time and help guide the user's course toward the desired result (source: Jodynimetz ).
We use data recovered from chatbots to create a global SEO strategy.
The number of companies using chatbots is increasing. You find there for example: Ikea, Sephora, SNCF and Trusk.
4) Humanize digital interactions: emotions and reassurance
Why play on emotions?
Humanizing the digital experience is the tendency to create positive emotions around the digital environment (a product, a website, content, etc.) through the use of colors, messages, faces, etc. The goal is to make digital interaction satisfy basic human needs, such as (source: Adobe ):
Trust
Transparency
Security
How does the humanization of content and design help SEO?
This allows to increase the activity of the user, the dwell time, the commitment (source: SEO Hacker ). It usually takes 3 to 5 seconds for a human to form an opinion. This is why it is necessary to present the conveyed message in the most effective way possible.
5) Minimalist operation: the use of essential elements for the functioning
What is minimalist operation?
It's a trend, when you create a structure, a design, which is to allow the user to focus on the desired content. This involves removing all nonessential elements from the site. Elements related to minimalist operation are (source: Adobe):
Distinct visual hierarchy: facilitates understanding of the content.
Whitespace: further aerate the content.
Clear navigation: easy to navigate.
Linear design: give an action to the user by step of his course.
Anticipatory design: seek to anticipate the future needs of the user so that it is the least complicated possible.
Why is it important for SEO?
It gives your site a clear and guided navigation
This increases the dwell time and facilitates conversions.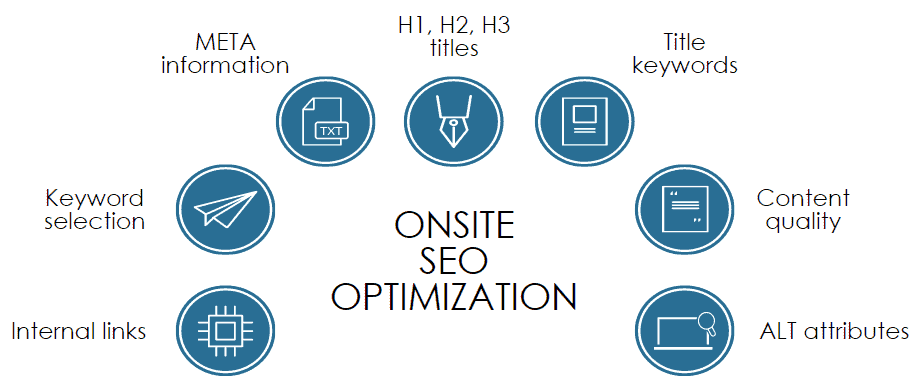 6) Keywords LSI (latent semantic indexing)
What are the keywords LSI?
LSI keywords are words and phrases that describe the theme or context of your page. They are linked to your primary keywords semantically and sentimentally. Let's say you wrote a 2000 word article about museums in London. Your LSI keywords could be:
Free Museums in London
Museum Maps in London
Must see museums London
Best Museums in London
London Exhibitions
How to find your LSI keywords?
Use the keyword planner
Use LSI graph , a keyword generator, to build an improved list of keywords and get new ideas for content.
7) The long train: searches or voice commands
What is the long train?
Long-tail keywords are relevant phrases, usually covering three or more words.
How is the long train important?
These are specific keywords, which means we have less volume and competition on Google. These are great opportunities to position yourself with specific products or queries. You can beat the competition on specific products without having a big budget.
On the other hand, the long tail is important for screenless queries, such as voice search, which continues to grow in importance: "1 out of 5 searches already comes from voice searches" (source: Search Engine Watch )
While searching for the information they need, users use complete sentences.
8) Rich content
What is rich content?
It is informative content, which covers a topic in depth and in detail.
How to create rich content?
Choose a topic and create a well-argued article of over 2000 words. Cover everything a search engine user wants to know about the subject by following these tips (source: Quick Sprout ):
Create your frame
Quote your sources
Make a rough draft
Cut out the work
Define your main axes
Edit as you wish
Why rich content, is it important for SEO?
Comprehensive articles are increasingly interesting to Google because they offer quality content, useful information grouped together on one page.
9) Featured snippet: lists, tables, charts
Why are snippets important?
They can allow you to appear in position 0, a position in the Google answer box. It's a sort of featured enhanced snippet, a snippet that answers a question (source: Search Engine Watch ).
To appear in position 0 is important since it makes it possible to increase the CTR provided to put the information arousing the desire to click on the link to find out more.
How to appear in position 0?
Create content that will serve as a quick answer, but do not give all the information.
Structure the sentence around "why? What? " or how ? ».
Create lists, tables, and charts for featured snippets.
Optimize snippets for voice search with natural language and long tail.
10) Consistency between mobile content and PC
Why is mobile content important?
According to Backlinko, once Google goes mobile-first, they will consider the mobile version of your page as the first version. The content that was hidden on your mobile page will disappear from Google.
Users will not stay on your site if they are struggling to use it on their phones.
To help the user to easily find local information.
How to know if your site has a good mobile version?
How to create a mobile content strategy?
PCs are not replaced by phones, but users are using their phones in new ways. When creating a mobile content strategy, it's a good idea to keep in mind the crucial moments of the mobile user such as:
I want to know ⇒ type of intention: the user searches for information
I want to go ⇒ type of intention: the user searches for information
I want to do ⇒ kind of intention: the transaction; the user searches for a product or a service
I want to buy ⇒ type of intention: the transaction; the user searches for a product or service (source: Search Engine Land , Game of SEO )
11) Audio and visual storytelling
What is audio and visual storytelling?
Storytelling is about explaining a concept through stories. Visual stories, especially audio-visual ones, are fundamental to clearly explaining the idea of ​​a page or website in the quickest, most adaptable and understandable way.
The type of stories that can be used in SEO are Who am I? and values ​​in action.
Why is visual and audiovisual storytelling important for SEO?
For visual research (computer graphics, etc.)
For your speech.
To share videos Videos are the # 1 content on the Net, especially 360 ° shots, which according to one study have a click rate that is much higher than traditional videos.
12) Security: https protocol
Is the security protocol normative in 2018?
50% of the sites using the https are on the top positions.
They are a priority for Google because of the increased security they offer.
This is particularly important for e-commerce sites since web browsers display security warnings for those who do not have https, which does not put the user in trust for his purchase:

What does it mean to be SSL certified?
You have purchased an SSL certificate to switch to https.
You have installed the certificate on your site to have a safer and more reliable site.
13) Branding
Why is branding important?
In 2018, companies will take steps to work more on the presence of their brand (source: Sempo). Their products being visible in the desired contexts, they are more likely to increase their number of visits.
This opens up partnership opportunities in a certain niche.
How to build your brand with content?
Create positive content related to your brand:
Connect user needs to your brand and product.
Create stories related to products.
Choose the semantic niche that will be your priority.
14) Influencers
What are influencers?
They are specialists in their field who share their knowledge with the public.
Why are they important for SEO?
They are important because they can share the content you have created and help you gain visibility and user engagement, provided you offer quality content (Source: Dago Referencing) Why videos are important?
Video is the first type of content in terms of engagement (comments, reactions, sharing).
15) Social factors: social networks
Why is online popularity important for SEO?
In France, we spend 1h20 per day on social networks (source: Blog Moderator).
Social networks are used instead of search engines for queries. Content can be created specifically for your social network (source: Keacrea).
You can earn backlinks through social networks.
Google has access to real tweets that are present in the serps (source: Search Engine Watch).
16) Content to share and download
Why is content to share important?
To build links. Win in importance by visual content.
What kind of content can we create for the purpose of sharing?
Connected and interdependent content such as:
Legitimate content : content that shows that you understand the issues of users and demonstrates credibility in the solutions you bring.
Useful content : practical content such as case studies, user guides, information.
17) Local Search: Mobile Search
What is local SEO?
It's about adapting your content to find you in local searches.
Why is local SEO gaining importance?
A third of searches are local, 85% of mobile users enter local queries (Source: AntheDesign, Fevad).
Mobile users are calling to find local businesses (source: Higher Visibility).
How to optimize your content for local SEO?
Create a Google my Business.
Make sure your contact information is consistent across the website.
Take into account the geographical location of your premises when you do linkbuilding or develop your brand.
Conclusion
Between evolution and continuity, Google's algorithm gives the tempo. To follow the movement and succeed in positioning well you will need:
Emphasize quality content: think about the featured snippets to increase the click rate.
Structuring your data to have quality content that is fun to read for Google and the user.
Think user first: quality content, loading speed, semantics at the to
It is a long post so if you don't want to read just watch this video.
SEO For Beginners: 3
Powerful SEO Tips