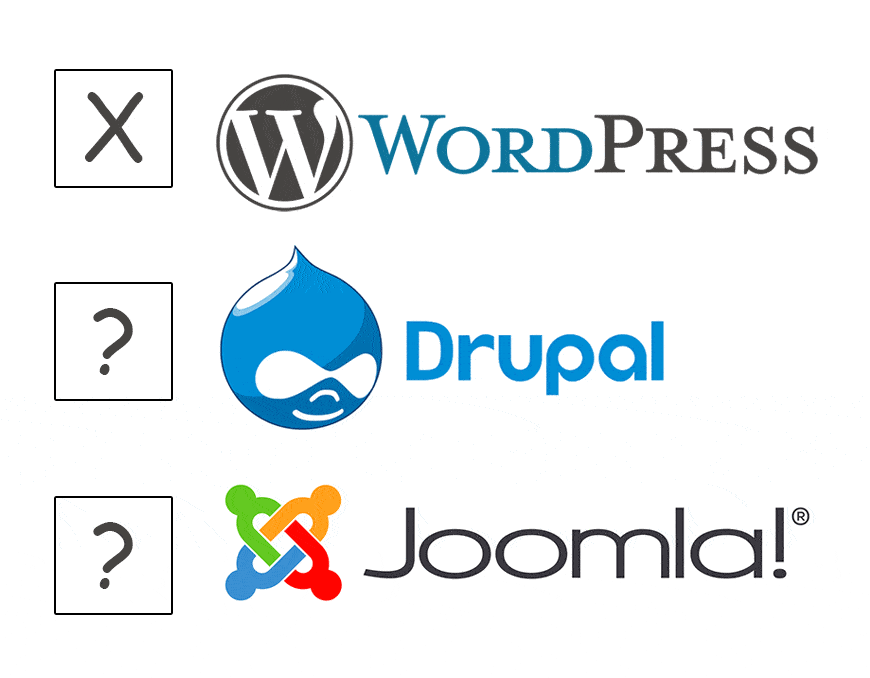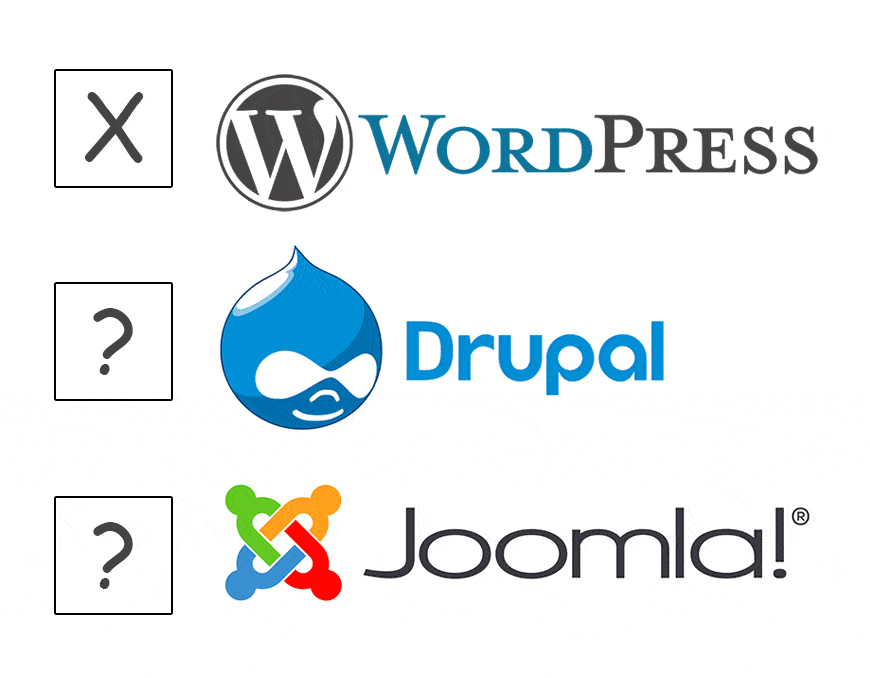 The question of what is the best CSS platform between WordPress, Joomla and Drupal has been a topic discussed extensively in the discussion forums in recent years.
In this debate on the comparison of CMS (Content Management Systems), each camp is of course convinced that the service it uses is much better than the others!
Content management systems have become very popular. These allow users with no, few, a lot or a lot of web knowledge to create and manage high quality websites. In other words, they have been involved in the emergence of new businesses, the creation of tens of thousands of jobs, phenomenal amounts of new projects, and the unveiling of a whole market related to content management consoles.
Of all the choices offered, WordPress, Joomla and Drupal stood out as currently the most popular. Together they have 71% market share in the CMS sector. It is therefore logical that you have to choose one of these if you want to launch a new website.
It should be noted that we also see the platforms of Wix, Shopify, Squarespace and Weebly take more market share in recent years. 
Which one to choose between WordPress, Drupal and Joomla?
They all do the same thing: they make the creation and management of a website accessible. In addition, they are all open source (free software and free use) and use these is almost free (see the reasons for the word "almost" a little further down the article.
What are the criteria to consider in making an informed choice?
In this CMS comparison article, I will provide you with a detailed description for each CMS and their strengths and weaknesses. I will try to compare things like:
the cost of a site
the ease of use of the platform
community support and support
the possibilities of personalization
the performance
Security
SEO, and more
This will not solve the debate around these 3 consoles once and for all, but this analysis will help you make an informed decision about which system to use for your next web project. Before starting to compare CMS as such, here are a few more details on these.
Facts and data from the three most popular open source CMSs
WORDPRESS – THE DOMINANT FORCE

WordPress was launched in 2003. Initially, its technology was mainly based on PHP supported by a SQL database. In recent years, as with many other sites on the Internet, JavaScript has become increasingly important. This is particularly the case for projects like Calypso and the publisher Gutenberg.
In the CMS market and website creation software, he is the most important player, holding more than 60.3% of the market share. And this statistic is still growing. WordPress accounts for 33% of all websites worldwide, regardless of whether they have a content management console or not! According to current Internet data, this would translate to about 560 million websites supported by WordPress.
"It's worth noting that since 2010, WordPress has been the big winner in the growth of content management systems. "  In second place this year include  Shopify and Squarespace , both of which have seen grow their user base by 40%.
JOOMLA – WHO ARE YOU? WHERE DO YOU COME FROM?

Joomla! was established in 2005 as a division of another CMS, Mambo. Its name comes from Jumla, a Swahili word meaning "all together". This refers to his definition of an open source project maintained by a volunteer community.
Joomla ranks second in terms of popularity among CMS. Its market share in the CMS sector is 5.3% (unlike the 60% dominance by WordPress) , supporting about 2.9% of all websites. This represents about 58 million websites.
Just like WordPress, Joomla consists of PHP and an SQL database. Its other characteristics are also similar, including the front-end division (the visible part of a website) and back-end (the programming part).
DRUPAL – THE CHOICE FOR ENTREPRENEURIAL WEBSITES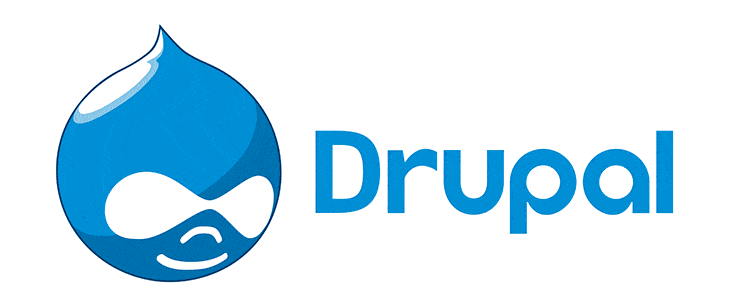 Our third candidate, in this CMS comparison, actually exists for much longer than the other two systems. The first version of Drupal was launched in 2001. Its market share is 3.4% for sites with CMS, or 1.9%, of all websites.
What sets it apart from the other two is the fact that this software is particularly appreciated when creating larger websites.
In addition, Drupal is the most advanced CMS technology level. Its main technology is also based on PHP. It is also open source. On the other hand, where the problem lies in its ease of use.
Source of Statistics: W3Techs.com
Costs and expenses
One of the things to consider when building a website is knowing what it will cost for your project. On this point, the three content management systems are all free to use. Stay vigilant, because creating a website will inevitably cost a lot, even if the basic software is free. Especially at the level of your web hosting service , a  premium theme , and at the level of paid plugins or extensions if it is relevant for the project.
WordPress
In the case of WordPress, the main additional expenses will concern paid plugins and premium themes. Be aware that you do not have to pay for a premium theme or to get some features. There are thousands of plugins and free themes .
WooCommerce, the WordPress e-commerce solution is also free. This one is in the form of plugin. However, its extensions are often paid. Whether creating a new online payment process, linking to your payment gateway, or handling Canada Post delivery charges and other services, you will have to pay. But it's the same with the other CMS …
Another factor influencing the price may be the professional support you will need to integrate more complex elements into your site. Due to the popularity of the platform, such services are very accessible and affordable.
Joomla
The fees for running a Joomla site are similar to those of WordPress. You will have to pay to upgrade to premium models and extensions. Prices are in the same price range as WordPress. Since Joomla is a bit more complex than WordPress, you may need more external professional help and due to market conditions (low supply, high demand) it will be a bit harder to find.
Drupal
For Drupal too, the cost of a Premium theme is similar to that of the other two platforms. The biggest difference with WordPress is that unless you're a professional web developer yourself, building a website with Drupal on your own will simply not be possible. You will inevitably have to hire a programmer or an agency.
Ease of use and user-friendliness for beginners
Usability is one of the most important arguments to consider for your choice. This allows those who do not know anything about programming to create (or not) their own website.
THE EASIEST CMS TO USE: WORDPRESS
The big winner in this category is undoubtedly WordPress. Its ease of use is actually the main reason for its success. The installation is simple and fast: that's why it's called installation in 5 minutes .
In addition, several hosting companies (such as SiteGround ) offer one-click installation solutions for WordPress. This is also the case for Joomla and Drupal. It is later, when creating your sections and visuals that it will be complicated exponentially for these two platforms.
The user interface of WordPress, meanwhile, is very simple and intuitive. If you are able to use word processing software like Word, you will be able to create articles and pages on WordPress.
Support Architecture
An advantage of some paid CMS is that they sometimes offer you a technical support if something is wrong. Open source solutions, which by definition do not have a sole proprietorship, do not offer this kind of customer service. For this reason, they must offer other support structures.
One of the real benefits of WordPress is that you are part of the largest online community. Thus, there are many support solutions such as official support forums and  WordPress Codex . These forums and other documentation are very active given the number of users.
Joomla also has a good support structure. The first stop is the official support portal . You can ask questions and receive technical support. The community is not as big as WordPress, but you can still find it quickly and easily.
For Drupal, if you have questions or technical difficulties, you can get support through documentation , or through support forums and user groups . The community is active and welcoming, though smaller than WordPress and Joomla.
Website customization
The ability for users to customize websites via a CMS (and customize the CMS itself) is paramount.
WordPress
Personalization is another benefit of the WordPress platform. There is almost nothing you can change. Even the built-in options let you change the design and features. From the color of the control panel to the visual model of the site through custom menus, widgets, background images and banner images, etc.
There are about 55,000 plugins and tens of thousands of free visual themes for your site.
Joomla
Joomla also has a whole world of extensions to add new features to your site. These extensions are of types:
Templates – It's the same as with WordPress themes. The templates apply to the visuals, style and structure of your site.
Components – To modify the different parts of the body of the page, and to add their own menus in the back-end of Joomla.
Modules – The equivalent of widgets in WordPress. They allow you to add search forms, breadcrumbs, and other page elements.
Extensions – These are point features that run under certain conditions, for example to block certain parts of the content.
languages
A difference from Joomla unlike WordPress, is that there is no central directory of themes. Instead, users must find their own reliable sources.
As for components, modules and extensions, you can use the official directory . Right now, it has about 8,000 extensions, which can be explored by type, category, compatibility, and more.
Drupal
Since Drupal is primarily focused on creating more complex and personalized websites, it includes a host of customization options directly integrated into the platform. As a developer, there are very few things you can not customize.
Drupal has more than 40,000 plugins and more than 2,600 themes. Due to the current Drupal code standards, it is guaranteed that these will be compatible with each other. An aspect that is not always true for WordPress and Joomla extensions.
Website performance
The loading time of pages is important for both visitors and search engines. Your site may have the most beautiful design and the richest content, if it does not load in fractions or seconds, many people may simply never consult it.
This is particularly true for mobile devices, especially since they outperformed computers in the number of users. For this reason and many others, performance is a crucial part of any CMS comparison.
On the other hand, it should be considered that the knowledge of the person who will integrate your website (yourself or a specialist in optimizing the speed of a website) will greatly influence the loading time of your pages. In my opinion, the most important point for the speed of loading is therefore not at what platform to choose, but rather knowledge of yourself or your integrator in this area.
Web hosting is not to be neglected! Indeed, your web server can make a huge difference in the speed of loading your pages. It is important then to inform yourself about the good and less good products and services available on the web .
WordPress
Performance is often cited as one of the weak points of WordPress. It is true that its goal of compatibility with previous versions slows it down a bit in this respect. However, this is one of the reasons for the popularity of the platform. Although WordPress is the least scalable CMS in this list, it can support very complex sites by ensuring a page load of a few seconds. With some plugins and some optimization techniques, your site can load very well in fractions of seconds like WP For Dummies.
Joomla
Joomla has a good reputation in terms of performance. It already has a feature built into the CMS to enhance the performance of the site. For example, you can enable cache and compression in Gzip from the dashboard. This is also the case with WordPress, but you must have an extension such as WP Rocket to do it.
Drupal
This last choice seems to be the system that produces the fastest websites. Drupal requires fewer resources and thus requires less server. Support for thousands of pages and visitors is made easier. Drupal is very scalable, hence its popularity among larger websites. It also has extensions that serve to enhance page caching and other things that make sites even faster.
Website security
Did you know? Having an online site automatically means email hacking risk? Unfortunately, spam and hacking are part of our daily reality. Although most of the security is the responsibility of the hosting provider, the CMS you choose should also do its security efforts.
WordPress
In the past, WordPress has had a bad press about the security of the software. It was sometimes deserved. WordPress has since taken on its responsibilities. For example, all version 3.7 and earlier WordPress sites automatically receive security updates. So, the WordPress base product has never been as safe as it is today. Current security issues are usually related to external extensions and not to the CMS itself. The most important security vulnerability of WordPress is often the user. Some of the main reasons for hacked sites include unsecured connections, plugins that are not updated, and the simplicity of some user passwords.
Joomla
In terms of security, Joomla also places a large part of the responsibility on the user and the hosting. Like WordPress, the community responds quickly to security vulnerabilities and applies the necessary patches. Also like WordPress, there are extensions allowing you to strengthen the security of your website. The Joomla documentation also provides a security checklist. This covers everything from hosting to configuration to refurbishment if there is a case of piracy.
Drupal
Security is one of Drupal's strengths. Once a vulnerability is discovered, it will be announced on the official website and updates will always follow quickly to correct the situation. Like other CMS, Drupal also offers extensions to make sites even safer. Drupal, however, had its share of problems, especially in 2014 when a SQL vulnerability was injected, which resulted in the hacking of many websites. But that's normal, after all, all software has had its challenges in the past!
Search Engine Optimization
SEO (Search Engine Optimization) is a very important element for many website owners. Search engines are still the most important sources of traffic. Please note that Google does not take into account the CMS that you use as a positioning factor, provided that the content of your site is decipherable by the robots. The ease of taking over the "on-site" part of the SEO (the technical part of SEO that can be modified via your CMS) is therefore to be taken into consideration.
For WordPress, the "on-site" optimization by WordPress is rather good, since from the start, you can modify use custom URLs and have access to some SEO tags. Extensions like Yoast SEO give you all the control you need for SEO. Meta tags, XML sitemap, non-indexing and canonical tags.
SEO with Joomla is a bit more complicated. It includes powerful features like URL rewriting, meta description, title tag optimization, and even the " noindex " and " nofollow " tags . It's more difficult to implement than with WordPress, especially for beginners.
For Drupal, the platform also includes some basic SEO features, but also offers different extensions for more specific enhancements, including an SEO checklist and an XML sitemap module.
Translation and localization
Businesses and websites are part of an international market. They must sometimes attract visitors from different regions, countries and languages ​​across the planet.
WordPress
In recent years, WordPress has taken a giant leap in localization and translation. Thanks to measures like Global WordPress Translation Day , the platform is now available in a dozen languages. Each user can also choose the original language from their back end – which is ideal when you have multiple users (speaking different languages) working on the same website. 
Joomla
Like WordPress, Joomla offers extensions allowing users to translate elements of the administration back-end . Joomla also has default features for managing multilingual content, so you can start creating content in another language at any time.
Drupal
Drupal has been translated into several languages. You will therefore be able to publish your content in your native language as well as in other languages. The ability to translate content is an integral part of Drupal. Unlike the other two open source software, no extension is needed to do it.
Types of website that you can build
As you may have noticed, all the systems presented in this CMS comparison share some features and functionality. It was predictable, since after all they have the same goal: that people can create and manage websites. Each of them has its strengths and corresponds to certain types of website.
WordPress
Although WordPress is now a content management system that can support all types of websites, its roots remain blogging. For this reason, he perfectly fulfills this part.
If you want to create a blog or make a blog central to your marketing strategy, WordPress will definitely be your best choice. It includes all necessary features, including archived content, taxonomies and comment management. Other CMS in this comparison can be equipped with similar features, but WordPress is definitely a step ahead in this area.
E-commerce is another strength of WordPress. WordPress is about half of the existing online stores on the Web. However, I do not recommend if your online store contains special features and / or thousands of products and product variations to manage. Believe me, we've been there! If that's your need, I'll go to Shopify or  Magento more .
WordPress is also my first choice for creating relatively simple websites such as a corporate website, a restaurant site, a musician, an online magazine, a creative site, a portfolio, a one-pager, etc. .
Joomla
Some programmers mention that Joomla is the most suitable CMS to create social networks. But I am unfortunately not an expert on the subject. This CMS includes many features for creating sites with a membership base, such as forums or other participatory sites or online community. It also offers extensions to further expand the possibilities for this kind of web project. With its many models and extensions, Joomla also excels in the e-commerce sector.
Drupal
As mentioned earlier, Drupal is the most scalable CMS on our list. For this reason, it is the favorite to create larger websites, often dedicated to entrepreneurs who need to develop systems and sites with more complex and specific features. It can also support community platforms with many users, online stores and social networks.
Comparison of CMS – Which one is right for you?
In order to help you in your decision making, let's quickly summarize what we have seen.
WordPress – Its strengths are in accessibility. Very suitable for all levels of knowledge (beginners to programmer), it allows you to launch your project quickly by yourself. The platform is highly customizable, secure, adapted to mobile and SEO. It ultimately holds the largest community and the largest ecosystem. This is the go-to for creating a blog or relatively simple websites such as: business site, simple online store, restaurant website, musician, an online magazine, creative website, portfolio, one-pager, etc.
Joomla – If you are looking for a solution for creating an online community or e-commerce, Joomla is possibly for you. It is a little harder to master, its community and ecosystem are more limited.
Drupal – If you want to build huge sites with malleable components and limitless customization, Drupal the solution to use. The console offers several options ready for use, and excels performance level. On the other hand, it is definitely not suitable for beginners. For this reason, you will need to have the necessary budget to hire a web programmer.